Sometimes I have a challenge problem. I set things up in my mind (let's do 15 days straight of yoga!) and inevitably fall short (oops, totally forgot to practice on Saturday). I think it's left over from my all or nothing mentality when it came to health. I'm happy to have found a more balanced place when it comes to healthy eating, but sometimes I still set myself up for the challenges. Another challenge I signed up recently was Diana's Eat in Month.
I signed up in hopes of getting our budget off to a nice start in 2013 and to bring healthy, home cooked meals back into the norm. 9 days in, I'm happy to report I've stuck with this challenge, and it really hasn't been difficult.
I thought it would be great to use this WIAW to share some of the tips I've relied on.
Have coffee, tea or your morning beverage of choice readily accessible.
Half a banana and green tea.
You'll be less likely to reminisce about your daily trip to Starbucks or drive through Dunkin Donuts if you have a warm beverage already in your hand.
Make meals fun. Splurge on a few fun foods that you don't usually buy. This week for me it was fresh, organic blueberries (I usually buy frozen).
2 scrambled eggs with peppers, topped with salsa. Half a grapefruit and blueberries on the side.
Utilize leftovers and embrace off food combinations. Spinach and jalapeno "salad" isn't exactly a usual around here, but it was decent (I've had a thing for pickled jalapenos lately) and it checked off my mental "eat some green" requirement.
Leftover pot roast and potatoes with a spinach and jalapeno "salad" on the side.
Plan ahead to have snacks that are easily accessible. This means at home, in the car, at the office, etc.
Popcorn with nutritional yeast
I downed the popcorn and nooch yesterday and I forgot to take a picture of the handful of the Blue Diamond Pepper and Rosemary almonds I ate while in the car. I keep a tin or two of almonds in my center console at all times. You never know!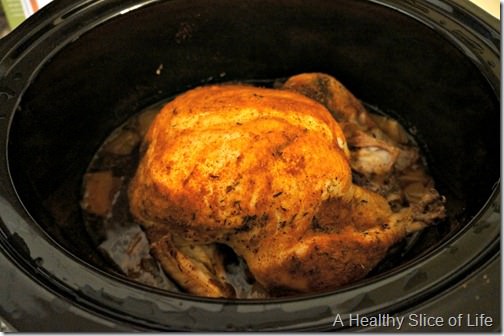 Have fun and try new recipes, but be aware you aren't going to want to cook a big fancy dinner every night, so embrace your slow cooker. Yesterday I used 100 days of real food's crockpot chicken. It took about 5 minutes to set up and literally fell of the bone once it was done.
I returned the bones to the slow cooker with celery, carrots, onions and herbs, added water almost up to the top and let it cook on low through the night. I woke up this morning to the smell of incredible chicken stock, ready to be used in tonight's soup. So remember to stretch your dollar by not letting any food go to waste.
Crock pot chicken with Sweet Baby Rays, smoky bacon quinoa and roasted broccoli.
Plan to use side dishes that are easy to make. Perhaps it will be fun to cook an elaborate meal on the weekend, but weekdays are busy, which is why it can be so easy and tempting to eat out. Give yourself a break by using quick sides, like roasted broccoli or quinoa, which cooks up in less than half the time of rice.
I should note that I have two eat-out passes this month. One is for David's birthday and another is a freebie, which we have yet to use. So far it is shaping up to be a challenge I can stick to!
Do you have any tips for making eating at home easier?