Curious how much fun and food you can fit into 36 hours in Asheville? I think we might have set the record! For a short trip, it's a long recap, but I wanted to share everything we did and ate in case you are looking to plan a trip to the area yourself!
A month back a friend of mine had a birthday and a handful of us met for brunch to celebrate. Two hours quickly passed while we chatted, which naturally led to a conversation about how we should plan a girls' weekend getaway. Those things are easy to say, but hard to execute because we are all moms to little kids, some of us work, some stay home, some husbands travel, some of our kids play sports, etc, etc, etc.
But we really wanted to make this happen so just for fun we all looked at our calendars. And somehow the stars aligned and we all realized we had March 30 wide open. With a short planning window, we decided it would be best to drive the two hours to beautiful Asheville. I reached out to my favorite hotel- The Omni Grove Park Inn– and they offered to host us for the night. More stars aligning! So with that, the trip was set.
Life got busy again and the weekend sneaked up on us. I'm usually a planner, but my friends took the lead on this one and researched and filled our itinerary, blending individual preferences. Some of us prioritized hiking, while others prioritized chocolate, so we were determined to fit it all in. I was just grateful to be along for the ride!
Saturday morning I helped David and the girls head out to Hailey's 8:00 AM soccer game, then we all met at Brittney's house. All six of us were able to fit in her car, and after a pit stop at Starbucks (#basic), we were on our way!
Our first stop was a new-to-me hike- Lookout Trail at Montreat, about 25 minutes from Asheville. It was a short but strenuous hike, with a heck of a view!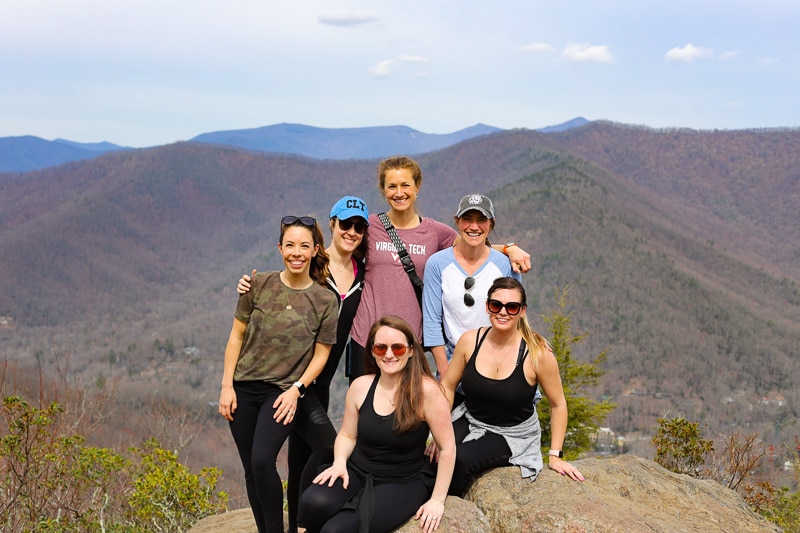 If I could bottle mountain air, it would be all I would breathe. The top of a mountain is my happy place for sure.
We were running into lunch hour after our hike, so we stopped by the nearby Blue Ridge Biscuit Company. The biscuits were the size of hamburger buns and looked incredible. At this point in the weekend I wasn't sure if I was going to stick to my hormone dietary restrictions or not, so I opted for the fried green tomatoes over arugula with scrambled eggs. Katie shared a piece of her bacon and it was all delicious!
Happily full, we piled back in to finish the trip to Asheville. We made a quick pit stop by High Five Coffee where I snagged a wonderful almond milk latte and a CBD chocolate. Clearly my dietary commitment started to waver at this point.
The day was absolutely gorgeous, so we decided to go ahead and make our way to The Grove Park Inn so we could soak up the sunshine and fresh air in style. I've shared abut my love for this magical mountain escape before. We went before kids, experienced their Big Band Weekend, and even enjoyed an epic snowy Christmas getaway there as a whole family in December. To me, it never loses its magic or charm, and as always, my breath was taken away as we pulled into the drive.
The service is top notch and we all grinned like Cheshire cats (or maybe just mom's away for the weekend?) as the valet attendants unloaded our car. Cloud nine!
Our rooms were ready early, so we went to quickly unload our things. We were determined not to miss a moment of the sunshine, so we grabbed drinks (their signature Organic margarita for me because organic = healthy, right?) and headed out back.
We sat and chatted, then wandered a bit. We ended up at the candy shop searching for goodies to bring home to our kids. I snagged the girls two rainbow colored unicorn lollipops that I knew they'd lose their minds over.
We went back to our rooms to shower and headed out at 6:00 to our dinner reservations at The Corner Kitchen. We were given a table right up front and immediately ordered a bottle of wine and some appetizers for the table. The charcuterie board arrived and that's when I knew my "no dairy" streak was going to have to come to a temporary end. It was worth it!
The whole menu looked incredible, but what stuck out to me the most was the chicken. I know, fellow foodies, you never order chicken a a restaurant because it's boring and normal and you can easily make it at home. However, it was fig and bacon stuff chicken and it sounded so fantastic I couldn't help myself. …I made the right call. While everyone was happy with their meal, the chicken was the stand-out dish.
We had to tie up dinner by 8:00 PM because we had Escape Room reservations to make. I had never done an escape room before but was really excited to give one a try. We booked an experience at Breakout Games, right in the heart of Asheville. The service and the experience were even better than I could had imagined. We had SO much fun solving the riddles and ended up beating the timer and making our way out before the hour was up. We had some good laughs and a few fun scares during the experience and I would absolutely do it again.
We wandered out afterwards to live music in the square right outside, so we sat and listened to a man take requests on his guitar. After listening to a few jams, our crew decided we needed to find dessert, so we headed to The French Broad Chocolate Lounge. I'm not usually a dessert person, but I did more than my fair share in demolishing the cake I split with Katie.
From there we headed back to the hotel. We tried the piano bar, but it was surprisingly low key, so we decided to hang out in the lobby by the over-sized fireplaces instead. We set up shop in some cozy chairs. What started with just conversation ended up taking us all the way to playing a rowdy game of Heads Up at 2:30 in the morning. It was an absolute blast. I love these girls so much!
We called it a night and I fell asleep at 3:00 AM to the sound of rain outside the open window of our room. Bliss.
We decided who stayed it which room based on who wanted to get up and run. I was in the run room because I guess I am finally at the point of calling myself a runner. I woke up on my own in the morning to the most beautiful view.
…and much colder temperatures! The high was close to 70 the day before but now I was watching rogue snowflakes falling here and there with a temperature in the high 30's. Still, we had committed to getting up and moving, so we did. And though I have no doubt I slowed Katie and Tanya down plenty, we all went out and ran together. We covered about 3.5 miles through an adorable nearby neighborhood and finished up with a small section of an on-property trail.
It was cold, but it's hard to beat that feeling of a hot shower after a morning of getting out and moving.
We met up with the rest of our crew in the lobby at 10:00. We checked out, loaded up, and headed to our brunch reservation at Chestnut. The place itself was super cute, and while my avocado toast breakfast was fine, I don't think I'd go back. I feel like I should mention, though, that the manager was awesome. One of our meals didn't come out just right and he was so kind and quick in taking care of the matter!
We were in no hurry to head back, so despite the bitter cold and wind, we decided to shop hop around the city. We hit up chocolate shops, boutiques, and searched for antiques. We surprised ourselves by actually starting to feel hungry again after a couple hours, so after a brief stop at Wicked Weed Brewery to buy a couple of the husbands a growler, we took Brittney's recommendation and headed to White Duck Taco Shop.
I'm never one to say no to anything even remotely close to the Tex/Mex category, so I enjoyed looking through the menu at all the flavor combinations and eventually settled on Lamb Gyro and Bangkok Shrimp. Ohhhh my goodness. I wish I had a better picture that could convey just how freaking delicious these tacos were, but I feel like I can confidently say it was my favorite meal of the trip and I am already looking for a time to get back to eat there again. SO good.
By this point I was looking for my stretchy pants to change into, but being that we had to head home soon, we decided to squeeze in one more treat. Hole Doughnut was the plan, but we waited too long and it was closed, so we opted for Sunshine Sammies Bake Shop and Creamery. Their ice cream sandwiches were pretty incredible, and it made for a perfectly sweet ending to our trip.
We all loaded in the car to head home, happily exhausted. I thought for sure we'd run out of things to talk about, but go figure, we chatted the whole way home as well.
I'm so grateful for this group of ladies. It's hard to make plans away from our families when they are our top priority, but getaways like this are necessary. For 36 hours we weren't "mom," we were just Katie, Tanya, Bekah, Amanda, Brittney, and Brittany. And as much as "mom" is one of my favorite things in the world to be, it's so nice to remember what it's like to just kick back, relax, treat ourselves, talk about life, stay up late, and just enjoy hanging out with friends.
And I'll end to a shout out to the dads, who didn't "babysit" but rocked their own fun-filled weekends with the kids. I know David enjoyed invoking #DadRules and took the kids kayaking on a day that the temperature was only in the 40's. I was so sad to miss that 😜
Now I'm back to schooling, laundry, and cooking dinner, but feeling very much refreshed. Hooray for girl time!