Welp, we're home! Isn't it crazy how Christmas sneaks up on you, then passes by in a flash?
Christmas morning was so much fun this year. I wouldn't say Hailey really "got it", but once she warmed up to the idea of everyone watching her and realized there were presents, she loved it!
Funny enough, a little orange light up fish Santa put in her stocking was the big winner! The snack pouches were a hit, too, though.
I learned the hard way that if Santa brings sippy cups, I should fill them up first, or be prepared to deal with the "what the heck, mom?!" face.
It took Hailey a minute to warm up to the Cozy Coupe, which shocked me, but as expected, once she got it, she didn't want out. She would get in, close the door, then point to the back until someone came to push her.
Yes, Christmas morning was certainly magical, but the whole Christmas vacation was great. I got to spend time with my mom, dad, brother, SIL (who has my niece in her tummy!), Grandma Betty, Nannie, Aunt Lynn and Uncle Greg. It isn't often we can get this whole group together.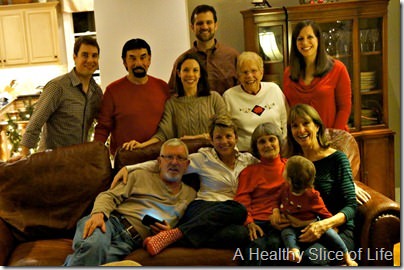 We missed you Andrew, Ben and Maya!
I also scored in our family white elephant with some great wire skewers and spices. Makes me excited for the next grilling season, but until then, I'll savor Christmas Eve dinner.
It doesn't get much tastier than tenderloin and mushrooms, though our first friend turkey experience on Christmas day was pretty exciting.
Have you ever fried a turkey?
It certainly isn't the safest thing you can do, but it only takes 33 minutes to cook an 11 pound turkey and the result is phenomenal.
We had a big, fancy Christmas meal in the early afternoon, so we could hit the road.
Now we are settling back in and preparing for round 2! David's mom and dad just arrived and more family will be here tomorrow. Let the fun continue!
I plan to be back to more focused blogging soon. I have some fun new ideas I'm trying out for my own health in 2013 and can't wait to share them with you. But for now, I'm still unpacking stockings and hanging around in Christmas pajamas with my little buddy.
I hope you all had a fantastic holiday!