Homemade Chick-fil-A? Yes, you heard that right. But first came breakfast.
Something about eggs in warmer weather make me happy. I know most people turn to smoothies, but I love fresh eggs. Yesterday I made a Mexican egg scramble consisting of 2 eggs, black beans, red onions, mushrooms, Jack's fresh salsa and cilantro. I also ate half and peach. Hailey ate the other half of the peach and black beans.
After a 4 mile walk with a friend, it was snack time.
Cherry Chobani (quite possibly my favorite variety) with some Simply Oats LOVE Grown granola (also, a favorite) topped with 3 cherries, fresh from the freezer.
Clearly Mexican flavors never get old to me and I downed a salad at lunch consisting of romaine, spinach, cilantro, sautéed mushrooms and red onions, avocado and salsa.
After lunch we ventured into the rain for an afternoon of errands and voting. I ended up standing in a line that wrapped around a building, while holding an umbrella and a baby, but it was all worth it because after about 45 minutes,
Afternoon snackage was a hodgepodge of my favorites.
Hummus, carrots, pickles, pistachios, string cheese and cantaloupe.
It held me over until I could get to the main event… HOMEMADE Chick-fil-A. Do say I was excited about the prospect of a healthier version of their delicious original sandwich is an understatement. I grabbed a Blue Moon seasonal (pictured with the beautiful lilies David brought me on our anniversary- my fav!) and got to work.
I used this recipe I found on Food Babe, but had to do a little modification (because I don't own spelt flour… or even know what it is).
For the marinade
-3 chicken breasts, pounded and cut in half
-1 cup pickle juice
-paprika
-salt and pepper
The day before, I pounded chicken breasts to 1/2 inch thick, then cut them in half to create 6 roughly equal sized pieces. I covered them generously in paprika on both sides and salt and peppered them, too. Then, I let them marinade overnight in pickle juice.
For the egg wash
-1 whole egg
-1/2 cup unsweetened almond milk
For the breading
-1 cup whole wheat flour
-1/4 tsp dry mustard
-1/4 tsp baking soda
-1 Tbsp powdered sugar
-1 tsp paprika
-a pinch of cayenne (if you want the spice)
I set up my dredging station. First I dunked the chicken pieces in the egg wash, then thoroughly covered them with the flour mixture.
Then, I placed them on a rack on a backing tray, so they could bake and get crispy on all sides.
I sprayed both sides of the chicken generously with olive oil, then stuck them in the oven at 450 degrees. After 12 minutes, I flipped them and put them back in for another 13 minutes before pulling them out and letting them rest for about 5 minutes while I toasted some whole wheat buns and sliced up some of my Nannie's pickles.
Then, I assembled.
But the true test… did it taste like the real thing??
Kind of! I wouldn't be fooled into thinking I'd just been through the drive-through, probably because it wasn't as greasy, which is a good thing! However, biting into the juicy sandwich was very reminiscent of the classic Chick-fil-A sandwich. The flavors were spot-on, but the intensity was lacking slightly. Overall, it's my favorite chicken sandwich I've ever made at home and will definitely be making it again!
Plus, how often do you get that crispy, delicious look and taste without frying?
Homemade Chick-fil-A for the win!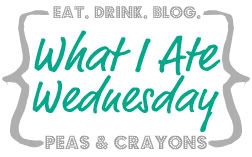 What restaurant item do you wish you could copy cat at home?