I know, I know. Why do I feel the need to always be doing some sort of food challenge, right?? I just find it interesting to try and see why people become so loyal to a way of eating and wonder how I'd feel eating it that way. I never really understand something until I try it out, so for a couple days this week, I've been eating (mostly) paleo. 'Mostly' because I'm still not sure I know all the rules. Like sweet potatoes… yay or nay? I've been yay. And bacon? Allowed? Anyway…
Breakfast was a 2 egg scramble with mushrooms, onions and spinach. A slice of all-natural bacon on the side.
I attempted a wog outside, but between being sore, the humidity and perhaps the lack of carbs in my breakfast, I felt zapped.
I got in 1.1 miles. Haha. But 1.1 is better than none. I am still, today, seriously sore from a PiYo class I took at the gym. It's a blend of pilates and yoga, but upbeat (think Usher's OMG song).
It was an odd class and I wasn't sure how I felt about it, but the time passed quickly and I'm still sore two days later, so maybe I'll give it another go.
Post run was a smoothie with organic frozen berries, half a frozen banana, MILA, spinach and almond milk. Plus a spoonful of almond butter, since peanuts and peanut butter isn't paleo approved. Almond butter reminds me of eating batter. It's good, but it doesn't stand up to my usual peanut butter.
I had a lunch meeting at BluStar Grill and opted for the salmon salad. It was incredibly hard to pass off my corn muffin, but I did.
After a two hour meeting, I was whipped. Thankfully Hailey slept for 2 hours (!!!) yesterday afternoon, which gave me time to play in the kitchen.
I snacked on homemade jerky (it's unbelievable) and dried apple rings (x2) while I made my favorite, cool ranch kale chips from the Fitnessista.
I proceeded to eat a tray and a half of those while I made dinner.
Paleo cobb salad! Iceberg and mixed greens with natural bacon, boiled egg, tomato, avocado, red onion and leftover chicken. Topped with Newman's Own light balsamic. It was so good that I surprisingly didn't even miss the bleu cheese and ohhhhh my gosh, was it filling. I didn't know a salad could actually make me feel so stuffed.
A special thanks to my personal paleo consultant, Maria, for answering all my twitter questions!
I feel like Regina George, but the paleo version… Is butter a carb?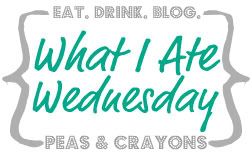 What do you think of Paleo?
If you eat paleo, what is your favorite paleo meal?