Welcome to another exciting What {we} Ate Wednesday! Hopefully there will only be about 8 more what {we} ate's before it's back to what I ate!! 🙂
Breakfast
A delicious combo of avocado, a Roma tomato, 1 egg & 1 egg white on a slice of Arnold whole wheat toast. A cup of decaf with 1 Tbsp Breve Cream was also consumed… just not pictured.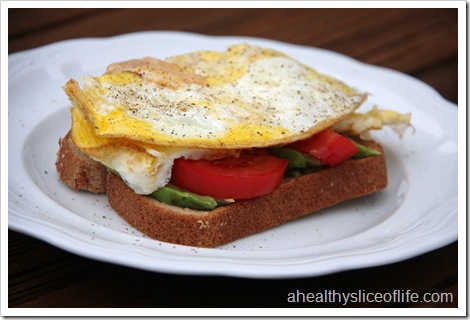 Calories 287
Carbs 30
Fat 10.3
Protein 15.25
Pre-Yoga Snack
An organic red delicious (and boy, was it!) apple with peanut butter.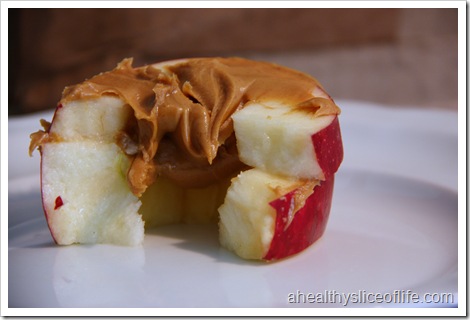 Calories 194
Carbs 26.2
Fat 9.6
Protein 4.2
Lunch
I had full intentions of eating lunch at home, but sometimes plans change. My day got busy, so I treated myself to an Athena Wrap from Laurel Market!
Calories 524.65
Carbs 67.51
Fat 22.95
Protein 15.19
Afternoon Snackage
Delicious, sweet, summer watermelon.
Organic romaine topped with a Morningstar Farms Spicy Black Bean burger, some avocado, green peppers, onion and salsa.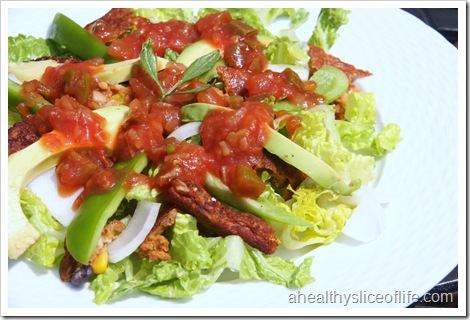 Loving the garlic variety lately with about 7 Kashi Seven Grain Crackers.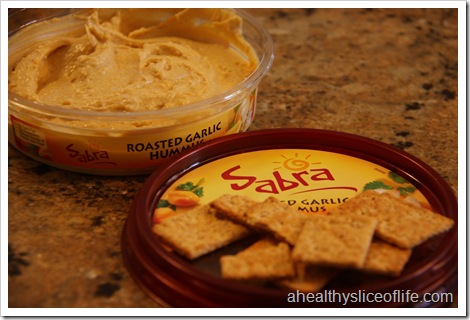 Calories 379.92
Carbs 47.89
Fat 13.87
Protein 18.05
Dinner
Simple and yummy. I cut up organic broccoli, onions and organic red pepper and stirfried it with teriyaki sauce, served on a bed on quinoa.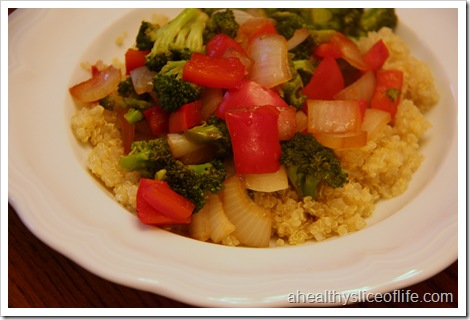 Calories 313.3
Carbs 59.47
Fat 4.3
Protein 11.64
Bedtime Snack
1/2 c of organic lowfat regular yogurt (not Greek, can you believe it?!), topped with 1 Tbsp of dark chocolate chips. The perfect sweet ending to the day.
Calories 160
Carbs 24
Fat 5.5
Protein 5.5
~~~~~~~~~~~~~~~~~~~~~~~~~~~~~~~~~~~~~~~~~~~~~~~~~~~~~~~
Daily Totals
Calories 1858.87
Carbs 255.07
Fat 66.52
Protein 69.83
Why no sodium count? Because it wouldn't be accurate. I didn't measure precisely how much teriyaki sauce I used and we all know that's FULL of sodium. Let me assure you, my total was probably over 2300mg. I plan to refocus on reducing sodium when I have more time (gotta love excuses ;)), and in the meantime I try to eat as many whole, unprocessed (and therefore low in sodium) foods as I can.
What food are you loving lately?
I've been all about the avocados!!
PS- for the step-by-step to the Shrimp, Zucchini and Basil Pasta I made last week, check out my post on The Charlotte Moms!