BH stands for Braxton Hicks contractions. I felt them all day yesterday, which was something new to me. It's when your baby bump tightens up and is really hard for a minute before relaxing again. They don't hurt, but yesterday I seriously felt them the entire day, which was something new to me. I actually timed how far apart they were, but after realizing that they were inconsistent and painless, I decided I'd just take it easy for the day… and I drank a ton of water, so it definitely wasn't a dehydration issue. Guess my body is just preparing for the big event!
A 34 week belly shot as of yesterday, next to my new sign 🙂
Now to the grub…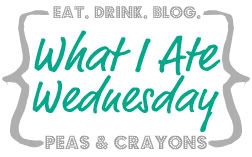 Breakfast
A summery mix of Chobani peach yogurt, a peach, blueberries, 1/4 cup raw oats and chia seeds. Did you know you can eat oats raw? You can, and they're better (IMO) than overnight oats… but I know, I promised I'd try overnight oats again and I will… one day 😉
Calories 386.5
Carbs 71.81
Fat 3.38
Protein 19.07
Lunch
I had a lot of little leftovers to use up in the fridge, so I made a pseudo-jambalaya with leftover brown rice, a veggie sausage, okra from my CSA, onion, leftover diced tomatoes from at-home Indian and some Cajun spices!
It was actually incredibly filling and I couldn't eat all the veggie sausage pieces.
Calories 302.7
Carbs 50.27
Fat 6.12
Protein 15.93
Afternoon Snackage
I took about a 30 minute nap and when I woke up, I felt I should continue to the toddler afternoon trend, and for 'snack time' I enjoyed peanut butter and honey smothered on whole wheat with a small glass of organic 2% milk.
Calories 414
Carbs 48
Fat 20
Protein 15
Dinner
A simple meal of a mixed green salad, tomato, onion and feta, topped with a delicious Wasabi Ginger Soy dressing. So delicious!!
We also ate homemade pizza, from defrosted dough. I was short of veggies, so we topped in with turkey pepperoni and shredded mozzarella. I had 2 pieces.
Calories 581.4
Carbs 65.4
Fat 20.93
Protein 30.7
Dessert
An early dinner meant my snack tooth kicked in a few hours later. I quickly satisfied it with vanilla ice cream, peanut butter chips and blueberries. YUM.
Calories 315
Carbs 39.8
Fat 15.06
Protein 5.7
~~~~~~~~~~~~~~~~~~~~~~~~~~~~~~~~~~~~~~~~~~~~~~~~~~~~~~
Daily Totals
Calories 1999.6
Carbs 275.28
Fat 65.49
Protein 86.4
What is your favorite ice cream or fro-yo topping?
I'm loving peanut butter chips lately! And I can't wait to be able to enjoy some TCBY in my life again once Baby D arrives!