Are you ready for a slight picture overload? Because it's coming. Lots of food was consumed yesterday, and if you don't believe me, just wait until dinner!
Breakfast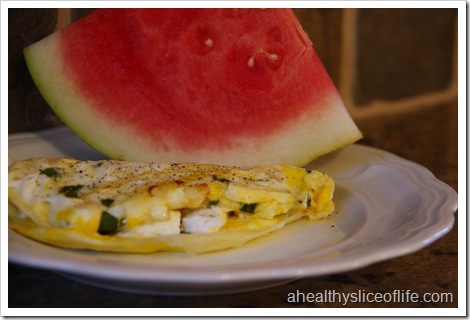 A spinach, onion and goat cheese omelet made with 1 egg and 1 egg white. A juicy slice of watermelon on the side.
Calories 218.93
Carbs 15.03
Fat 10.87
Protein 15.87
Sodium 237.87
Morning Snack
I munched on this granny smith on the way to yoga. I hate those stickers they put on the fruit. It's all organic until you gunk it up with sticker goo. Ick.
I also enjoyed my Juice Plus – like candy!
calories 116
carbs 30
fat, protein, sodium 0
Lunch
I loaded up with veggies at lunch time, snacking on 2 carrots and a green pepper with hummus while throwing together my mixed greens salad with tomatoes, onion, green pepper, an Amy's California Burger and a drizzle of Newman's Light Balsamic.
calories 341.32
carbs 47.52
fat 13.56
protein 12.53
sodium 974.05 (darn you frozen food!) Next time, I'll look for this one.
Afternoon Snack
Yesterday was a busy day around the house, and after yoga, I ended up cutting the grass, too. Needless to say, my body was begging to be refueled after all that exercise (like I said before, our yard is pretty big!), so I had a peanut butter and banana quesadilla, a delicious black cherry Chobani and my current vice, La Croix.
calories 349.95
carbs 47.54
fat 12.17
protein 21.05
sodium 273.01
Dinner
This is where things get interesting…
Since I wasn't feeling great on Monday, we decided to go out and celebrate our 2 year anniversary with a fancy Tuesday night dinner. I was hungry and excited- and we indulged at Epic Chop House.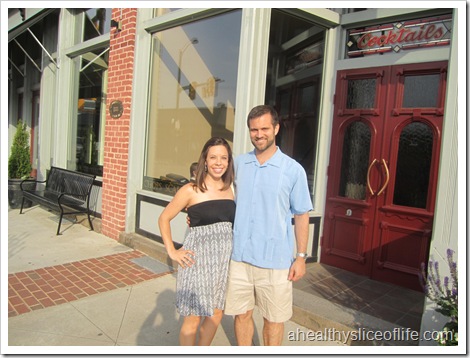 Nothing like pregnancy hormones to ignite an appetite… Here goes nothing!
Jumbo Lump Crab Fritters
With Green Tabasco Butter & Savory Tobacco Onions
I ate 2.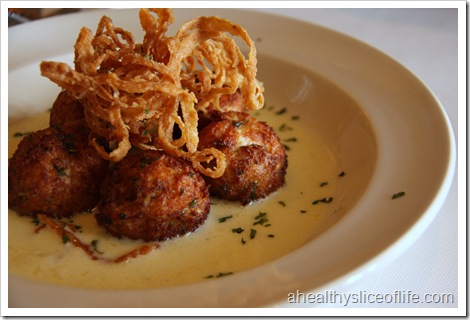 Warm Bread and Butter
I only ate 1 small piece. I'd rather save room for the good stuff.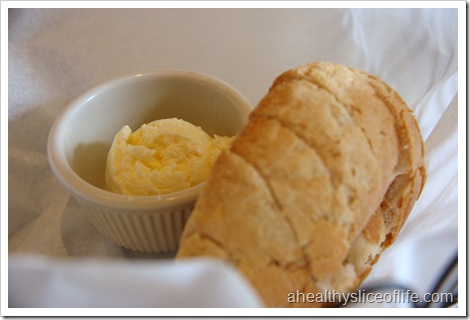 Fresh Mozzarella & Tomato
Sweet Sliced Tomatoes and Fresh Mozzarella laced with Fresh Basil Pesto, Virgin Olive Oil and Balsamic Glaze
I ate about 1/3 of this. It was OK. The tomatoes were a little bland, but the balsamic never disappoints!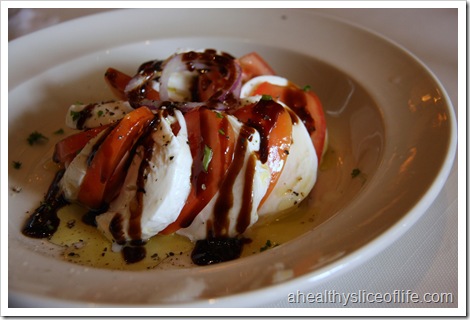 Petite Filet Mignon
8 oz Barrel Cut. The Most Tender Cut of Beef!
Hallelujah! One of the most perfectly cooked, well seasoned, melt-in-your-mouth steaks I've ever had the pleasure to enjoy! I ate just over half, and share the rest with Hubbs. We both closed our eyes to savor it. Amazing!
The asparagus was well done, too. Crisp, not overcooked, and fresh! It was not soaked in butter or oil, which I appreciated. I ate about half of that as well. We like to share 🙂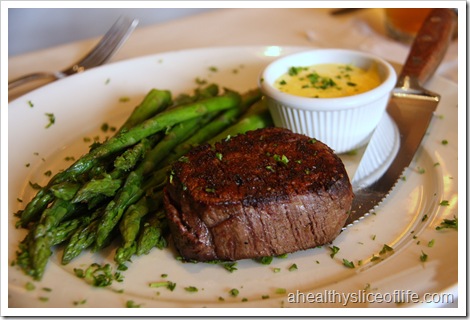 Wild Mushroom Risotto
Although it was more sticky than creamy, the cheesy flavor was delicious, and i loved the big pieces of wild mushrooms throughout it. Yummy! I picked out most of the mushrooms and ate about a 1/2 cup total.
I was pretty please with myself for taking small bites of everything so I could really enjoy the flavors, rather than stuff myself. Best of all, it meant I still had room left over to split this little piece of heaven with my groom…
Key Lime Pie
Hubbs is a self proclaimed Key Lime Pie expert, so when it melted in my mouth, I still waited to hear his opinion.
"That's a pretty darn good key lime pie"
And that's a pretty darn good compliment from Hubbs! It was tart, with a hint of sweetness and firm, but not too hard graham cracker crust. Oh it was SO good.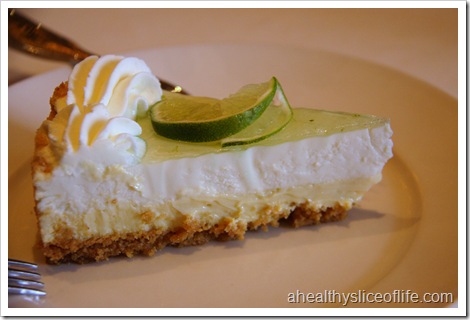 I totaled things up to the best of my ability once I got home. I was proud that I didn't stuff myself (which I have a tendency to do) and I felt fully satisfied, not uncomfortable, after our decadent anniversary feast.
calories 1081.18
carbs 87.14
fat 57.14
protein 48.54
sodium 1272.45
*************************************************************
This brought my daily totals to:
Calories 2107.38
Carbs 227.23
Fat 93.74
Protein 97.99
Sodium 2757.38
My thoughts? Perhaps a few more calories than I usually eat, but with yoga and grass cutting, I think I needed them. Plus, I'm still super proud of my ability to control myself around all the deliciousness that was dinner.
What's your favorite dessert in a restaurant?
We don't usually order one, but since I haven't been drinking, I've been more apt to order a sweet something at the end of a meal. I like lighter desserts and opt for key lime pie, something with berries and creme brulee!