Old school style! I snapped pictures of my meals the past two days. Well, at least most of what I ate. I realized I never share pictures of my second helping of dinner, of which is almost always a thing, or nibbles and bites I take of random items throughout the day- Kaitlyn's leftovers, a bite of the cake the neighbors gave us, etc.
Those random nibbles have become less since Monday though because I got Spark aligners, basically Invisalign but more clear. I can't eat or drink anything but water with them in, so it's been interesting to see how much I usually snack on little things now that I can't.
I've shared I have been focusing more on protein in my health habits post, but I don't usually count the grams. Instead I just look to have protein at every meal. But for the sake of this post, I'll roughly estimate the g per meal. I aim for about 1g per pound of body weight, but often fall short of that. If I hit 100g/day I feel pretty good about it though. Let's start with Monday!
Monday Meals
Mixing cottage cheese in with scrambled eggs is a new favorite protein hack of mine. 1/2 c adds 14g of protein! I don't measure, but I probably add about 1/3 c per my 2 eggs. The organic chicken sausages from Costco are 3 g of protein each, so this breakfast is roughly 32 g of protein.
I cooked rice and lentils in the rice cooker on Sunday and kept it in the fridge. It made it easy to throw into a pan with Amylu sausages and spinach for a quick lunch on Monday. Roughly 21 g of protein here.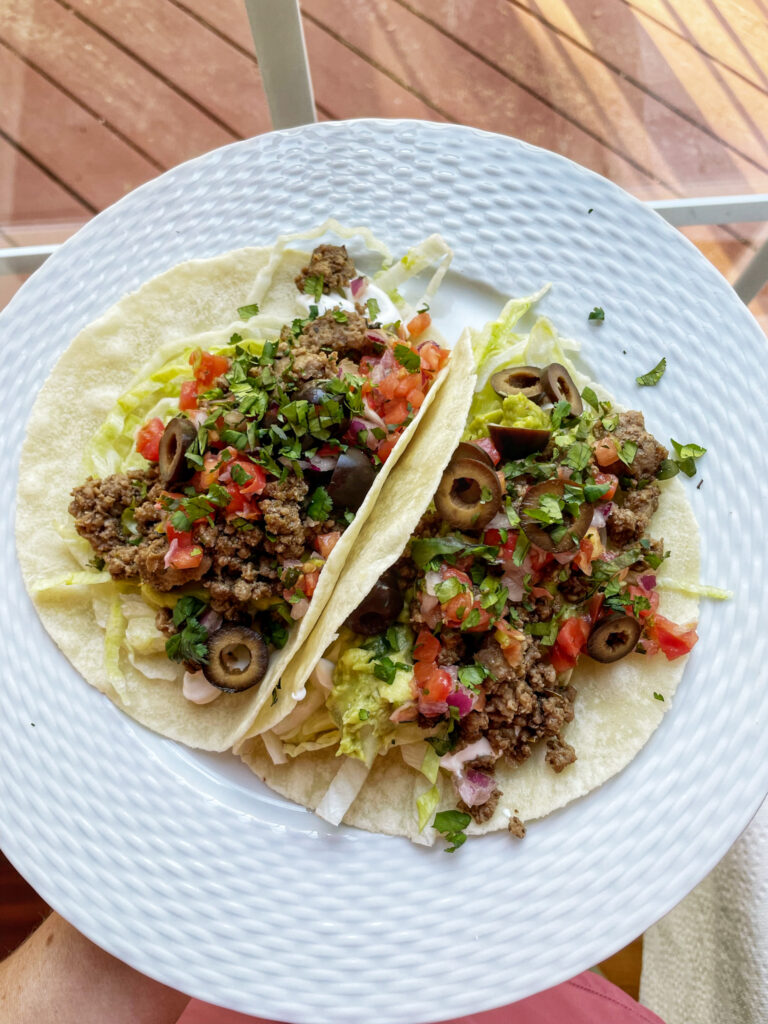 I had a scoop of protein (14 g) after my workout but was still starving by dinner. I ate these ground beef tacos then went back and made a pile of ground beef, guac, salsa, and sour cream to eat with chips. I'm estimating I ate about 1/2 lb of meat, which would be roughly 36 g of protein. Total protein for the day: 103ish g/protein.
Tuesday Meals
The typical set up: eggs, cottage cheese, chicken sausage, and a sweet potato with fruit. Roughly 30 g of protein.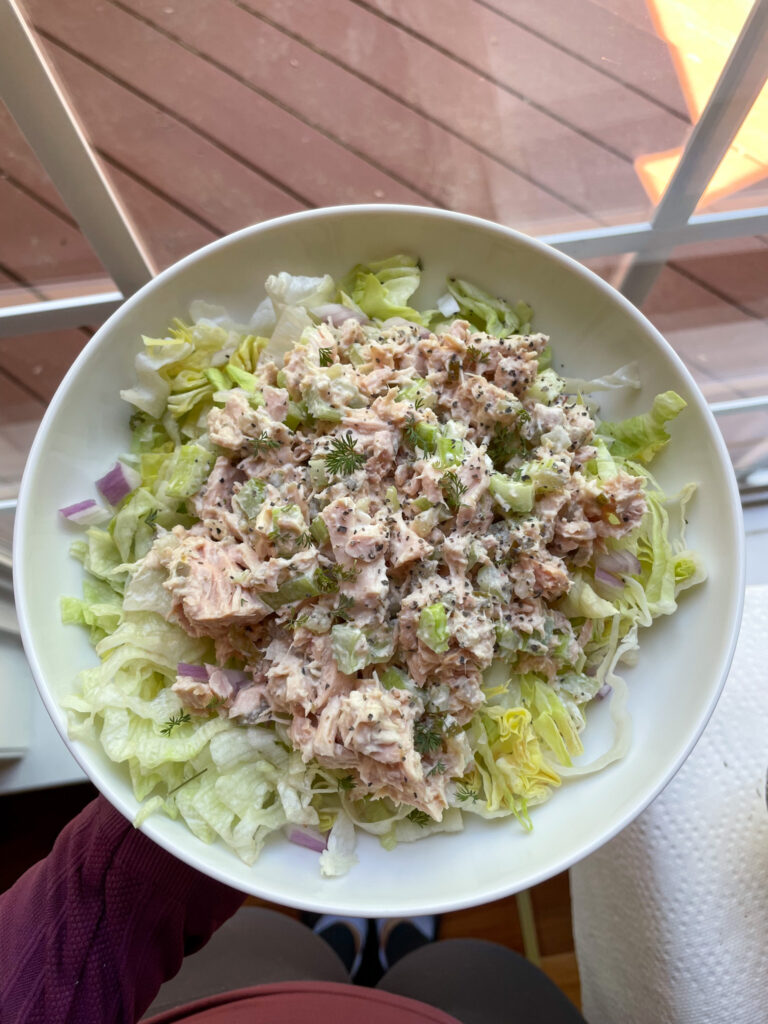 A quick tuna salad over leftover iceberg lettuce. Roughly 32 g of protein.
Pause for story time…. I was so excited about having Cobb salad for dinner. I was craving crispy chicken and was going to load the salad with chopped nuggets, boiled eggs, turkey bacon, and all the other goodness. I asked H to stick them in the oven while I took K to TKD. Well, on my drive home, my phone beeped with an incoming image from David of a very guilty looking pup. Apparently he and Hailey had gone outside and Finley seized the opportunity to counter surf and eat EVERY SINGLE NUGGET. And 1 slice of turkey bacon. Apparently she wasn't a fan of that.
My crispy craving chicken heart was devastated, but I figured the boiled eggs would suffice. However, for the first time ever I bought pre-boiled eggs and the yolks were GREEN, which totally freaked me out, so I tossed those, too. A first world problem for sure, but gosh my hungry no-snack-because-I-have-teeth-aligners self was really looking forward to that hearty salad….
I added a little canned chicken with the turkey bacon, bringing the protein total to around 28 g of protein. Then we finished off the Boston Cream Pie a neighbor had gifted us. It was ridiculously good! Finally I ended the night with a magnesium mocktail. I ended this day around 90 g of protein.
Protein isn't an easy and mindless thing for me to get enough of each day. It also raises my grocery spending. However, I'm a believer in the power of getting enough based on how it makes me feel and the continuing emerging science showing the benefits it has for bone density and health, especially for women as we age. Protein also reduces cravings and improves satiety, as well as helps with muscle recovery. We just got in our protein shipment so I'll be adding a scoop in again after workouts, an easy way to help me get closer to my daily goal.