When I was growing up, every now and then my mom would declare it a backwards dinner kind of night. We smiled as the aroma of homemade chocolate chips cookies filled the house. It was a fun treat that happened only so often, and it's a tradition plan on continuing. Yesterday was a test drive of the idea…
Breakfast was 2 scrambled eggs, topped with a fresh mango peach salsa from Target. Strawberries (organic because they taste SO much better) on the side. Hailey loved the strawberries! (Yes, she eats strawberries. No allergies over here.)
For lunch I made a large batch of Mexican Quinoa Salad to eat through the week and ate in on top of mixed greens. I topped it with more mango peach salsa and some homemade Greek-style yogurt. Made this way so it could be organic (for Hailey).
Green beans and Sabra's Supremely Spicy hummus made an excellent afternoon snack. I used a handful of Kashi pita chips to finish off the hummus (unpictured).
Then, it was yoga time! I've told you how I've missed hot yoga, but that the studio with childcare isn't exactly close. Well, they opened up a new later time spot that works for me and I hope to make the drive once a week because the feeling I get from yoga is unlike any other.
Yesterday's class was GREAT (and not just because David got to come, too!). It was challenging and satisfying, and just as we began our savasana, they dark clouds opened up and let loose their thunder (…and lightening… and torrential downpour). Ahh-mazing.
Afterwards David went to get the car so Hailey and I would only have to run about 10 feet. We still got soaked.
Feeling exhausted and completely relaxed at the same time, we headed home. We were about to pull in the neighborhood at 6:00pm when we both commented how great TCBY would taste right about now, so we turned the car around to satisfy our craving.
I'm so glad we did. His (left) and her's (right). I went with the Greek fro-yo with a little root beer float fro-yo on the side (I find it incredibly tasty!) Topped with mango, blackberries, mochi, a few crushed Oreos and whipped cream.
The cliché of healthy living bloggers and fro-yo lives on!!
By the time we finished up, the clouds had cleared. I took it as a sign that our treat stop was meant to be.
After Hailey was in bed, we made the second course of dinner. Grilled Morningstar Farms black bean burger topped with herbed goat cheese and sautéed mushrooms and onions on a whole wheat bun. Grilled broccolini on the side.
Then watched an episode of The Middle before retiring to read and go to bed…. at 9:30.
Yoga will do it to ya!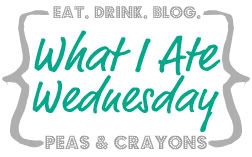 Do you ever do backwards dinners?