Located in Teton Village at Jackson Hole Mountain Resort, Teton Mountain Lodge features rustic elegance combined with modern, upscale amenities. We stayed here in February 2023 as a family of four in an One Bedroom King Suite.
When we were in Jackson in the summer (see: post one, post two, post three, and post four for details) we were able to see how the town of Jackson is separate from Teton Mountain Village. While only 12 miles apart and a bus offering a ride either way for only $3, the traffic during the busy times, like in the morning and after the lifts close, can still take upwards of an hour. Since our winter trip was focused on experiencing skiing as a family at Jackson Hole Mountain Resort, we chose to stay in Teton Village to be close to the mountain.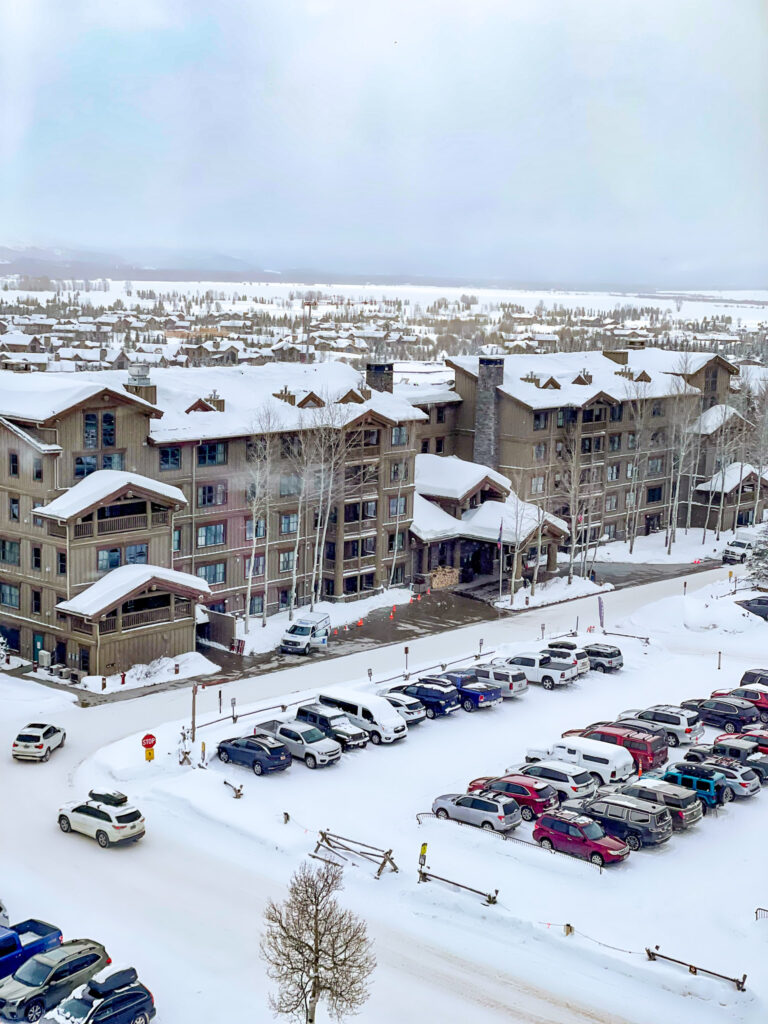 We chose Teton Mountain Lodge because of its authentic Western vibe with an upscale twist and its proximity to the base of the mountain. While you can ski down and get quite close to the hotel, I would not consider it ski in/ski out. However, it's very walkable, even for kids in ski boots. The walk from the entrance of Teton Mountain Lodge to the lifts takes about 5 minutes, and again, that's in ski boots.
We were booked for a double queen hotel room, but upon arrival we opted to pay for the upgraded room, a one bedroom suite. It featured a king bed with an ensuite bath, a small kitchen, another full bath, and a living room with a murphy bed and a couch, so each kid could have her own sleeping spot. It was well worth the extra money!
For future reference, we will not opt for a hotel room on a ski trip. We thought we could do it, but skiing requires so much gear and we would have been tripping over all our items. It was very nice for everyone to have their own sleeping spot and to have room to let our gear and equipment dry at the end of the day.
We usually book condo vacation rentals, so staying in a hotel for a ski trip was a fun new experience. Teton Mountain Lodge offers daily maid service. It was really nice to come back each day to a tidy room, made beds, and fresh towels.
Teton Mountain Lodge Features
Cozy lobby and overall ambiance. The rustic décor really added to the experience. Big fireplaces with multiple seating areas in the lobby with cozy throw blankets draped over couches for your convenience gave the feel of being in your own homey mountain lodge. The wood and stone fit the landscape and the overall vibe is warm and welcoming.
Walkability. Teton Village is rather compact, which I really loved. It feels intimate, yet has all the offerings you need, like multiple restaurants, an ice skating rink, ice castles for the kids to play in, a small market, etc. Teton Mountain Lodge is central to everything at the base of the mountain, so it's easy and feasible to walk to wherever you'd like on the heated, and thus snow-free, walk ways.
In house restaurant. The Spur offers breakfast, lunch, dinner, and bar service daily. Though popular in the evenings so reservations are encouraged, it's nice to have a spot to get a good bite to eat without leaving the hotel. During our dinner a mama and baby moose even walked right by the restaurant window and got cozy in an adjacent snowbank. So neat! I'll share more details on the meals in my food review post.
Indoor and outdoor pools and hot tubs. The kids absolutely loved the heated indoor pool. There is a heated outdoor pool as well, but wasn't quite warm enough for our crew. There are two small hot tubs available for the whole family (one inside and one outside) and a large, adults-only hot tub on the roof that fits 20 people. It has a great view of the mountain!
Nightly complimentary dessert. No surprise, this was a big hit with the kids. It was a sweet (pun intended) added perk to have a rotating complimentary dessert offerings each evening. From ice cream sundaes to apple pie bites to wine and cheesecake, we enjoyed heading to the lobby in the evening for the dessert of the day.
Spa (though I didn't get to visit on the this trip). I wish I had a chance to have booked a massage; goodness knows my après ski legs would have relished in it! Next time. I liked the offering of an in-house spa though, and it smelled wonderful every time I walked by.
Robes. Maybe this is a small thing for most, but we are a family that loves a complimentary robe and Teton Mountain Lodge's robes were incredibly soft and cozy; the perfect cover up to throw on over a bathing suit at the end of a long day of skiing.
Cleanliness. You can't discount the importance of cleanliness and I was impressed at how our room was not only very clean, but so was the pool area, the community bathrooms, and the lobby. Very impressed.
Accommodating staff. Everyone we encountered was welcoming and friendly. From opening doors to showing us the upgraded room option to helping us make dinner reservations, I appreciated how kind and accommodating the staff was to us.
Family friendly. I was surprised at how many families were staying at the hotel. While upscale, it is also very family friendly! They offer books and games in the lobby for children and parents to borrow at their leisure.
The only hiccup we encountered was the variable water pressure in the shower. Sometimes it would be great water pressure and other times, I'm assuming busy times when many guests are showering, it wouldn't be much more than a trickle. The unpredictability of it made getting all the shampoo out of hair a challenge at times.
Like everything in the area, expect to pay for the luxury experience. However, we were pleased with our stay and would happily book here again for a future trip.