These brightly-flavored lemon spinach muffins are zesty and not too sweet; a fresh addition to a spring brunch or delicious when paired with an afternoon cup of tea.
Originally my plan was to make a basic muffin- blueberry perhaps?– and make it green by adding a couple handfuls of spinach. Yup, the secret is out in the first paragraph of this post. Just like smoothies, you can add (blended) spinach to muffins to increase the nutritional profile without changing the flavor (cha cha cha!). BUT, don't take the tip and run just yet because I have something even better to share with you.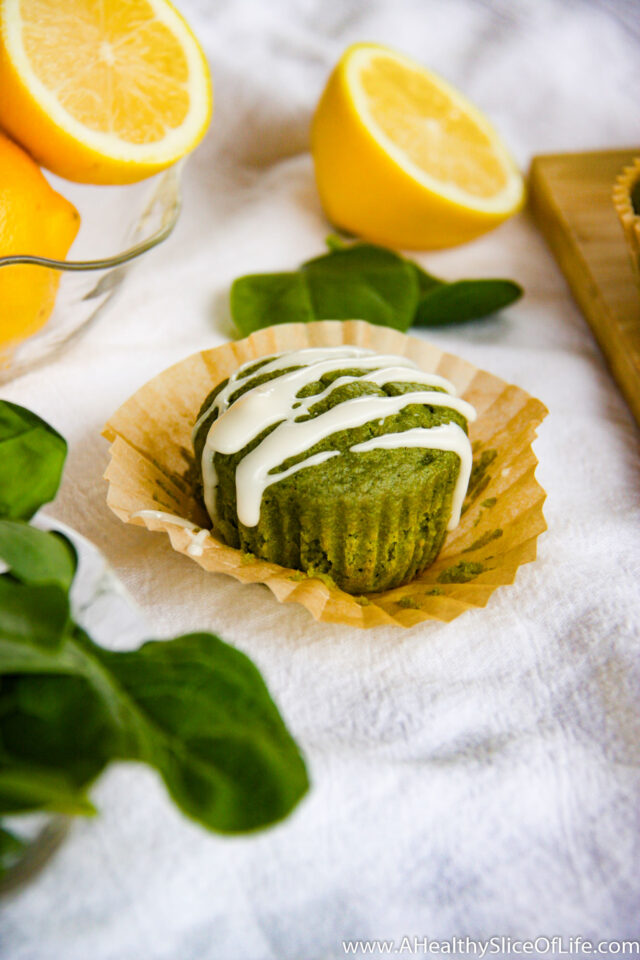 If you haven't felt it where you are yet, spring is certainly on the way. The 70 degree sunshine I experienced yesterday confirmed it and to me, nothing feels more fresh and springlike than lemons, right?
I decided to incorporate the sunshiny citrus fruit (spring! fresh!) with spinach (St. Patrick's Day green! Health!) and try to create a wholesome and tasty muffin. It took a lot of playing with my favorite lemon juicer and several kitchen messes…
but I finally ended up with a light and lemony, not too sweet, brightly-flavored muffin.
The muffins are quite good on their own and make a fun switch up from typical muffin flavors. They pair as well with a cup of tea in the afternoon as they do with fresh fruit for breakfast.
As I started thinking how great these could be for a spring brunch, visions of a lemon drizzle appeared in my head and I knew I had to try kicking things up a notch.
Oh I'm so glad I did. Though these muffins can be enjoyed wholeheartedly on their own, for a fancy presentation or to entice the kids to give them a try, drizzle on this simple lemon glaze. It really blurs the line between muffin and cake, delighting both the eyes and the taste buds.
[Tweet "Mmm… lemon zest muffins with a colorful, healthy twist from @ahealthyslice!"]
So open up your windows to let the spring breeze in and whip up a batch of these lemon spinach muffins to welcome it with!
Print
Springtime Lemon Zest Spinach Muffins
Prep Time: 10 mins
Cook Time: 20 mins
Total Time: 30 mins
Yield: 12 muffins 1x
Category: adapted from [url href="http://minimalistbaker.com/vegan-meyer-lemon-poppy-seed-muffins/" target="_blank"]Minimalist Baker[/url]
---
Description
These brightly-flavored lemon spinach muffins are zesty and not too sweet; a fresh addition to a spring brunch or delicious when paired with an afternoon cup of tea.
---
for the muffins
2 eggs
3/4 cup applesauce
1/3 cup freshly squeezed lemon juice
1 Tbsp lemon zest
1 tsp vanilla extract
1/4 cup avocado oil (or oil of choice)
1/4 cup unsweetened almond milk
3–4 ounces baby spinach, roughly chopped
2/3 cup light brown sugar
1/2 tsp salt
1 1/2 tsp baking soda
1 cup whole wheat flour
1 cup all-purpose flour
for the glaze
2 cups sifted powdered sugar
2 tsp fresh lemon juice
2–3 tsp almond milk
---
Instructions
Preheat the oven to 375 degrees and fill muffin pan with liners, or coat in a nonstick spray.
In the blender, add eggs, applesauce, lemon juice, lemon zest, vanilla extract, oil, almond milk and spinach. Blend on low until spinach is fully incorporated. (You could use an immersion blender if you prefer)
In a large mixing bowl, whisk together sugar, salt and baking soda. Once well combined, add flours and whisk until fully incorporated.
Slowly pour in spinach mixture and mix until combined into a thick batter.
Divide evenly between muffin tins.
Bake 18-20 minutes, until a toothpick can be inserted into the center of a muffin and comes out clean. Let cool for 5 minutes then transfer onto a baking rack to continue cooling.
If making glaze, whisk lemon juice into sifted powdered sugar. Add 1/2 tsp of almond milk at a time until it reaches your desired consistency.
Drizzle glaze onto cooled muffins and serve immediately.
Muffins will stay fresh for up to 3 days (un-glazed) in an airtight container. Add glaze before serving.
---
What is your favorite muffin flavor?
I usually reach for blueberry!