Moms, families, ladies rockin' the single life- these money-saving tips are for everyone… because they came from everyone! Recently I shared my weekly grocery haul picture on instagram and facebook and asked people to share what they spend weekly (if they were comfortable doing so) and their best tip to save on groceries. I sorted the responses, looked into them myself, found some really cool new ideas and compiled them into what I hope will be a helpful post. If anyone is looking to save some dollars while still eating well (and who isn't?!), these are for you!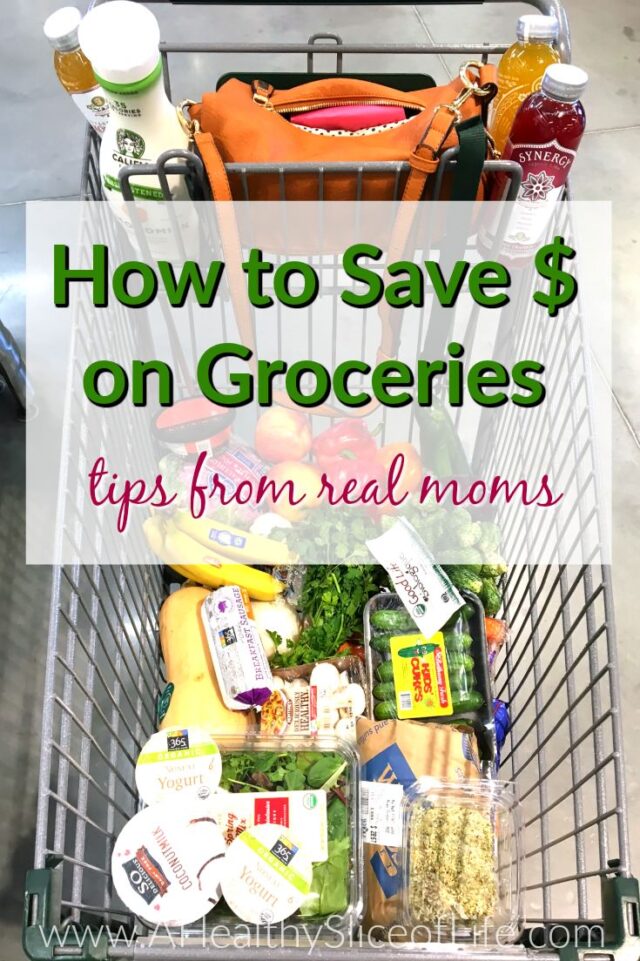 How much are people spending?
First, I was curious what other people were spending on groceries. Our monthly grocery bill currently is around $750-$800 a month, so $180-$200 a week. This includes food only (OK, maybe a little beer and wine), is largely organic and does not include household items like paper towels and such. It feeds us (family of four with a four year old and 1 1/2 year old) most meals at home, save one family dinner and one lunch out a week. Maybe a coffee or extra lunch thrown in depending on how the week is going too!
I was thrilled that a lot of people responded to my question and wanted to share those responses with you, because if you are the head grocery shopper in your house, you have to be a little curious too, right?
A quick disclaimer though, remember, this comparison is apples to oranges (pun intended). Things to consider that can change answers quite drastically are: location, children's ages, food preferences (grass-fed? vegan?), frequency of meals out, etc. So now with the disclaimers of out of the way, let's take a look:
Vegetarian family of four: $120 on a bad week, $80 on a good one
Family of three: $110-$140 a week
Family of three: $175 a week
Two adults and one almost toddler: $120 a week.
Family of three: $160 a week
My fiance and I: $75-$100 a week
One person: $50-$80 a week
Plant-based family of five: $175-$200 a week
Family of five (two adults and three kids under four): $100 canadian dollars a week plus a $100 Costco run once a month
Family of five (two adults, a four year old and two year old twins): $150 a week
Two adults and a baby: $140 a week
Husband and wife: $100-$125 a week
One person: $50 a week
Family of five (but the four month old isn't eating yet ;)): $180-$200 a week
Family of three: $120 a week
Family of five- no meat or dairy: $75-$100 a week
Husband and wife: $50-$60 a week
Family of three: $160 a week
Family of two in Northern California: $150-$170
Family of five (two adults and three active teenagers) in Michigan: $225-$250 a week
Family of five: $200-$250 a week
Family of four: $150-$250 a week
How are people saving?
Along with responses, many people left some great tips- some I use myself and some that I'm going to start using ASAP. I broke it down into categories so I could share these incredible tip with you. Starting with:
Apps
Who knew there were so many options? Most of them new to me. I'm a frequent user of RetailMeNot for coupons (you know, the one that always has a 40% off coupon for Hobby Lobby) so I was surprised that I haven't made better use of grocery saving apps as well.
Thrive Market: Thrive market is an online retailer selling healthy foods at wholesale prices. Yep! You heard me right. I, too, was skeptical at first, but I've actually found that it really is that much cheaper. Most items are several dollars less. It adds up over time! The best way I can describe it is like a virtual Whole Foods. And who doesn't love Whole Foods? There is an annual membership fee of $59.95. but use THIS LINK to get a free 30 trial!
If that's not enough for you, you also get free shipping on orders over $49 – Read my full review of Thrive Market HERE
Ibotta App: This is a new one to me, but I have now signed up. With this app, you unlock cash rewards for products you want to buy. You buy them at your local store. Then you submit a picture of your receipt through the app and have CASH deposited into your paypal account within 48 hours. REAL CASH. So cool. You can also opt to receive giftcards as a withdrawal option. Reader Megan said she used her savings to get an Amazon gift card that she used on Christmas presents – awesome!
Target's Cartwheel App: Who doesn't love Target, right? This is an app I currently use. It offers hundreds of offers in different categories and some can really add up. You can search deals ahead of time or simply scan the barcode of a product to see if an offer exists. If it doesn't but another similar product is offering a discount, then it will tell you. I find that most of the time, the Target brand offers at least a 5% off savings. Sometimes these really add up and I've saved as much as $10 at one time just by scanning items. I know other people that have saved even more.
Berrycart App: This new-to-me app is geared towards healthy eaters and features products that are organic, gluten-free, non-GMO, etc. You can learn about the companies they feature on the app too, which is cool. Similar to Ibotta, you buy the product, take a picture of the receipt and then they send you CASH via your paypal account or you can cash out into gift cards.
Checkout 51 App: I couldn't find as much information on this app (if you use it please leave details in the comment section!), but it does state that you buy groceries and earn cash back, so another pretty cool set up.
[Tweet "Start saving money on groceries now by using these awesome tips from @ahealthyslice!"]
Online shopping/drive by pick up
Several readers mentioned their love affair with online shopping. They said it helps them stick to their list and not get sidetracked with other tempting items around the grocery store. Most seem pleased overall with the quality of items the store picks out for them (non-bruised produce, etc).
Harris Teeter: Offers online shopping and easy to pick up express lane. In some areas they even offer home delivery!
Lowe's Food, Meijer, Safeway, etc… check your local store because I've heard a lot offer this service now.
Instacart: Home delivery for groceries! A couple commenters said they loved this service that allows you to shop online then delivers groceries right to your door. I haven't gotten to try it because it's not available in my area yet.
Walmart: (<–Referral link- you and I will both get $10 off our order if you sign up using it). It's hard to beat Walmart prices on some items, but our local store is pure chaos to try and get in and out of. Recently I tried their curbside pickup and was pleasantly surprised. I was pleased at their selection of organic options and used the curbside pick up to buy many pantry items.
I loaded up on extra staple items (La Croix, bottled waters, applesauce pouches, etc), then went to Whole Foods for my produce, meats, etc.
The result was the total trip of both stores adding up to $195, which sounds right at my average, but I was able to load up on so many staples (frozen organic fruits, etc) and splurge on $28 worth of halibut, so overall it really was a great deal and I will do it again in the future.
Store Choice
Like my example above, I believe the best way to save money is by shopping at more than one store. Curbside pick up makes this a little easier. Also, choosing stores that offer the best prices is a smart way to go, obviously. The best value stores that were mentioned several times by multiple readers were the following:
Aldi: I'm so embarrassed that I haven't shopped at one yet. People RAVE about their low prices and increasing organic selection (though I've heard mixed reviews on produce quality). One reader said she even considered her proximity to an Aldi when buying a house! That must mean it has some awesome deals. I hope to check it out myself soon!
Costco: Oh, Costco has a fan club for sure. We are getting one near us in the next year and I will probably hop aboard that bandwagon. People rave about their low prices on high quality meats, fish, produce and other foods.
Trader Joe's: Known for great prices and unique products, a lot of people mentioned their love for this store! I had a poor experience with their produce, but if I had one closer to me, I would probably hit it up occasionally for great prices on staple items and fun, new products like the frozen organic cauliflower rice. So cool!
General Tips
Meal Planning: A personal favorite of mine, as it reduces food waste and saves my sanity.
Buy Seasonally: Buying produce that is in season will keep your produce costs down. Shop your local farmers market for great deals on local produce or search online to find out what currently is in season.
Veggie-only and plant-based meals: Meat proteins, especially if you are buying higher quality meats like grass-fed beef, really add up in cost. Several readers mentioned adding in even one or two plant-based dinners a week helped their overall health and their finances.
Using eggs as protein: Even buying free-range eggs, which can cost $6 a dozen, is a lot less expensive than meat or poultry options and can usually stretch further.
Experiment with new cuts of meat: Chicken thighs, for example, will cost much less that the more popular chicken breast and some people say they have more flavor too.
Grow your own food: Even growing just a few items or herbs can help cut down your grocery cost. Some readers grow much more than that too and love the low cost and extremely high quality their families enjoy.
Eat at Home and factor that into the budget: Initially it may look like a higher cost because of the increased grocery bill, but you may be surprised at how much you are saving over all with the decreased amount you are spending out. One reader said she started buying the "fancy" organic coffee beans and not only enjoyed the taste more, but also ended up saving money overall because she cut out her Starbucks habit.
Whew- how is that for a boatload of information on how to save money on groceries?? I can't thank you all enough who shared your tips; I know I'm excited to try some of the new-to-me ones out as well! And let's keep the idea sharing going. Tell me,
What is your favorite way to save money on groceries?
If you could only share one tip, what would it be?
For more healthy eating talk, visit my favorite food tips page.