After leaving Badlands we drove hour and a half and arrived at Game State Lodge in Custer State Park in South Dakota. We checked into our Creekside room, took quick showers, and headed to the lodge for our 7:30 PM dinner reservations.
We were a tired bunch, but a local IPA and a kids menu full of fun activities helped us all enjoy our dinner. The service was very friendly, but the food isn't anything to write home about. We filled up and headed to bed right after, knowing we had an early morning the next day.
We only had 24 hours in this beautiful location, so to make the most of it, we set our alarms for 6:00 AM. We sleepily got dressed, made coffee and tea in the room, and drove the hour down to Wind Cave National Park.
Though it didn't open until 8:00 AM, tours are first come first serve and I heard some people get in line as early as 6:30 AM. We arrived around 7:15 AM and were roughly 15th in line, which felt like a win! By the time the doors opened at 8:00 AM, I'd guess there were close to 100 people in line.
It worked out that we were able to get on the first tour of the day and at 8:30 AM we were lined up and listening to the ranger teach us about how caves breath and how only 5% of Wind Cave has been explored and how it's among the largest mapped caves in the world. Then, we wandered down into the cave!
Hailey was nervous, the tour started steep and narrow, but Kaitlyn wanted to lead the expedition! The tour lasted about an hour and was really neat. Turning all the lights off down there and standing in silence for a minute really gave us all an appreciation for how brave (and in my opinion, crazy!) cave explorers are.
After our tour, the girls completed their junior ranger books to earn another badge, and we took off for our next stop of the day- Mount Rushmore!
We'd really been looking forward to seeing Mount Rushmore. Most people told me it was a quick stop, so maybe my expectations were low, but I thought it was great! They have a wonderful museum and mom and I helped the girls with their ranger books, which gave us all an opportunity to learn a lot.
We strolled the avenue of flags, explored the museum, walked the presidential trail (which is only .6 miles and gets you closer up views on a nice boardwalk set up), then loaded back up in the car.
By this time it was about 1:30 PM and we were all ready for lunch. We drove into Custer to see what we could find and chose a local spot called Baker's Bakery and Cafe. It turned out to be a great choice! The food was good, super friendly service, and the girls couldn't contain their giggles at their tagline: "you'll love our buns" with a picture of a girl with hamburger buns as a booty. Kids…
We enjoyed lunch then headed to check out the Needles Highway. I heard it takes about an hour to drive the whole thing, but the one area we wanted to see most, the Eye of the Needle, was just about 30 minutes away. We headed straight there.
The "eye" is a very narrow tunnel to drive through and it's surrounded by incredibly tall, thin rock formations. It's a one way road, so when we were there rangers were set up on either side helping direct cars and bikers (tons of motorcycles!) through it safely.
We got out to climb and wander for a bit, then drove through it. It was so exciting and it felt like the walls were going to scrape the car (happily, they did not).
After that adventure we drove the 20 minutes inside the park to Sylvan Lake. It was quite busy, but once we found a parking spot, people began to filter out. We changed into bathing suits for the option to swim, but we were wimps and the water was cold!
We settled for splashing around on the shore. Kaitlyn found a frog and Hailey made Nana and me fancy "cakes" made of mud and rocks. It was great to have no agenda and just have down time to play and explore.
We splashed for a while, but as always, climbing boulders won out in the fun department. We scampered over rocks and took in the breathtaking views.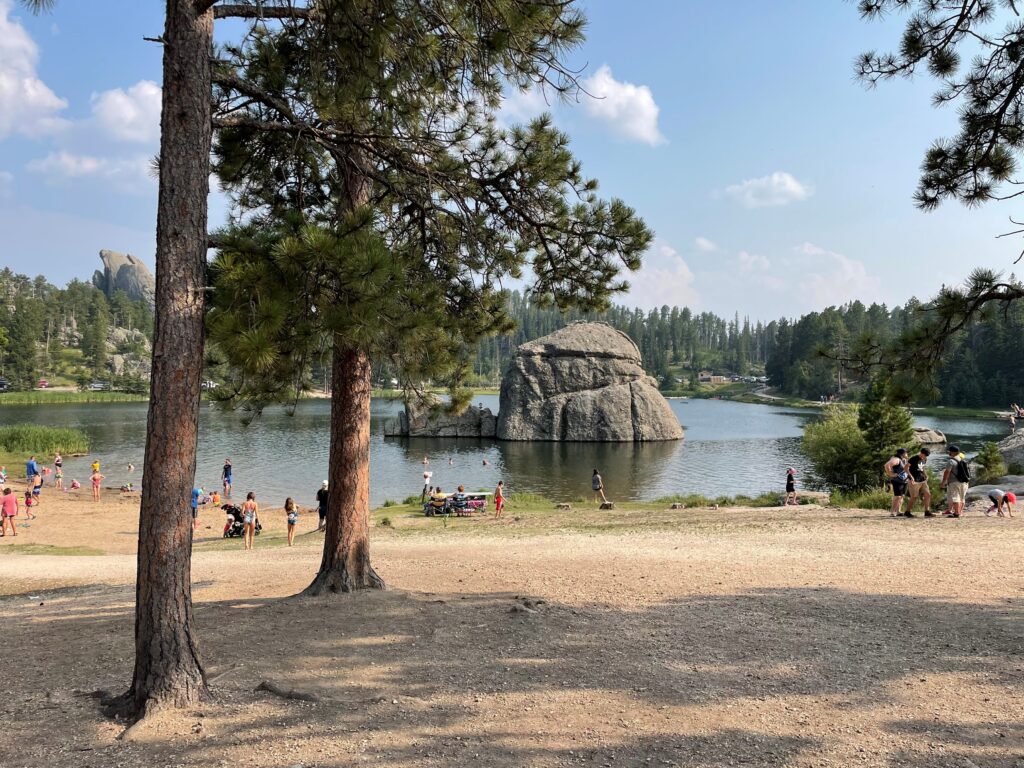 As the sun continued to dip lower in the sky, the crowd thinned out a bit and we decided to embark upon the 1 mile trail around the lake. Kaitlyn was resistance at the beginning, girlfriend didn't want to leave her beloved boulders, but I'm so glad we did. The hike is a must do!
The scenery is unreal. The boulders are so big, we found a tiny waterfall, there is a creek, and great views. I highly recommend not skipping it.
We had 7:00 PM reservations at Sylvan Lake Lodge, so we changed and got back in the car to drive up the street to the beautiful lodge.
We wanted to love the dinner here, as the place itself was beautiful and our server was very kind, but the slow service and rude manager (who we did not call over but came to set us straight that a wedge salad was indeed the same as a Caesar) left me in a place that I would not recommend it. I do think a lot of places right now are struggling with staffing, so I'm giving them the benefit of the doubt that they were just figuring things out with a new crew.
Funny happenstances aside, we enjoyed our meal just fine and got a great laugh and story out of the experience. On the way back to our lodge we saw our first bison!… buuuuut it was clearly a bison farm, so we didn't write it down on our animal count 😉
We got back and did the same routine of showers and into bed. We were all quite tired!
This morning we got packed up and headed to Custer for breakfast. We enjoyed Baker's Bakery and Cafe so much the day before we decided to go back. It was bustling in the morning! We got a full breakfast, but their baked goods are clearly super popular (Nana treated the girls to chocolate donuts for the road)!
From there, we hopped on the road, listening to Wingfeather (it's such a great audiobook!) for the 7 hour drive to Bozeman!
We arrived, checked in, and quickly headed to Main Street to meet Kris, Cara, Kyla, and Lacey for dinner. The girls were so excited to see their cousins (you, too, I'm sure Uncle Stat and Aunt Cara ;)). I had a delicious huckleberry mojito with a local vodka and a grain bowl.
We all were tired from travel, so it was back to the hotels for showers and bed because tomorrow, it's… ONWARD! 🚗