We spent a wonderful weekend in Georgia with my favorite people on the planet. You can tell I had a good time because I completely fell off Instagram stories, but still had my camera attached to my hip, of course. The stars must have aligned because the weather was perfect and we spent the weekend chasing the girls around, laughing, and celebrating the birth of my amazing Dad!
Of course it started as expected, with Dad's famous martinis on Friday evening. Or late afternoon. I figured 4:07 PM was close enough to 5:00 and no one seemed to mind that I nudged happy hour to come a little early. It had been a long and full week!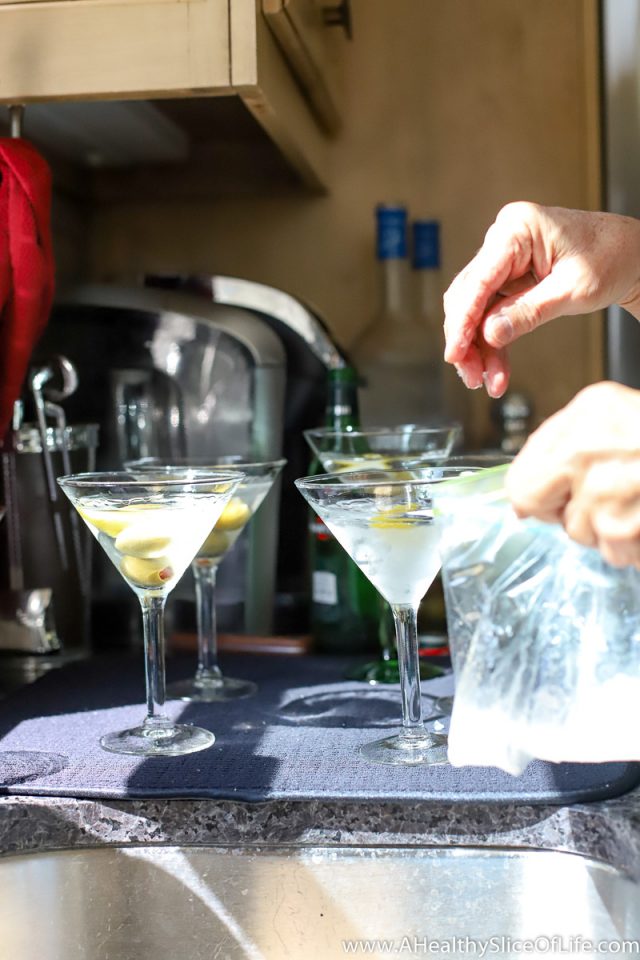 The girls were giddy to be together (we have four girls between us- ages 6, almost 5, almost 4, and almost 2). We have a lot of birthdays in this next month stretch, ha. They took off to play on the Power Wheel, then their entrepreneurial ways set in and they decided to set up a store to invite us all to. It was super sweet until we realized they were charging us real money! #bossbabes
The majority of my family now is eating plant-based so dinners have been a fun switching around of meal ideas and trials. After my enthusiasm over Sloppy Josephines, Mom decided it would be an easy group meal (and it was!). I made avocado Caesar kale salad and slaw to bring it all together. I'd say most everyone enjoyed it, minus one or two who opted for the pulled pork instead.
I went bun-less because I knew Mom had her famous Cherry Cheese Junk waiting for dessert. Supposedly it's a pretty simple dessert to make, but not only is it delicious, in just one bite I was transported back to many celebratory occasions from my childhood. We all dug in after we sang happy birthday and the girls decorated Papa John with their homemade birthday paraphernalia.
We herded the girls into their room after dinner then spent the rest of the evening chatting outside by the fire pit. I had my first experience with Ellen's Heads' Up Game which had us all laughing and acting a fool; nothing gets me jazzed up quite like charades!
The next morning, the celebration continued. Hailey had made Kyla her own responsibility chart and was giddy to give it to her. Does she know how to give a gift or what?! Here, cousin, enjoy some chores! 😉
Someone that does know how to give a gift? The Batchmaker. Cristina is a local Charlotte mom with an extraordinary talent for baking. She reached out to me last week and told me she has been reading my blog for years (<3), then asked if she could send a box of her chocolate puddle cookies down to Georgia with me to help celebrate my Dad's birthday. She has her hands full with two adorable littles and her own business, but still found time to bake these incredible treats and meet up with me to deliver them. I know I wasn't the only one that appreciated this incredibly kind and scrumptious jester. Dad opened the box in the morning and with all our help, they were completely devoured by the afternoon!
The kids ran off the sugar in the backyard and by playing in the lake (yes my crazy niece and Hailey actually got IN the water- brr!). When it was time for a boat ride, all the girls passed right out and took advantage of a blissful boat nap.
Late afternoon brought cocktail hour and card opening on the back porch.
I have to stop right here and virtually hug you all. I've been on the receiving end of so many incredibly heartfelt emails, comments, and messages from you offering love, support, prayers, good vibes, and well wishes for us and my Dad undergoes treatment. It's touched me deeply. A friend encouraged me to open up a way for people to pass that support and love directly to my dad, so I shared my P.O. Box address on Facebook and Instagram saying if you wanted to send a birthday card, I'd hand deliver it to the man, the myth, the legend myself. I wasn't sure what to expect, but soon my little mailbox started overflowing with envelopes and I was able to surprise my dad with a whole box full of your kindness!
Some cards made us laugh, others brought a tear to our eye, and the oodles of artwork from your sweet kiddos was just so adorable. Thank you all so much for the love you've been sending our way. We feel it!
The evening unfolded with the usual antics- bath time, chatting, accidentally lighting the salmon on fire. You know, the usual. 😉
Side note: I made the Brussels sprout slaw from Cookie + Kate and thought it was delicious!
The weekend rolled by at such a nice pace. There was always something for the girls to be up to and sure they got caught painting on the floor in the basement and Kaitlyn accidentally launched a fishing pole off the dock and down to the bottom off the lake, but we also had ample time to laugh about old memories, create new ones, and just enjoy being together. Family is the most important thing in the world to me and it's not lost on me how fortunate I am to have the one I do.
David, my bro Kris, niece Lacey Mac, Ms Michelle (who will be headed home to South Africa soon- we will miss you!), Dad, Mom, my SIL Cara, niece Kyla, Kaitlyn, me, my Grandma Betty.
Thank you for all the love you send us and thanks for allowing me to share a slice of my life with you.
Now let the birthday celebration week continue, Daddio! <3