A detailed peek into a family weekend in the rolling hills of Hot Springs, Virginia at the historic Omni Homestead Resort.
I am a history nerd. David and I are currently watching a docu-series called The Men Who Built America and I swear if they turned all of history into mini moves like this, it's all I'd watch. I am enthralled with stories about the past and with places that have a deep history to them. So when our good friends, Jodi and Jayson, invited us to visit The Omni Homestead Resort with them in Hot Springs, Virginia, we excitedly accepted.
A quick peek into the details: The Omni Homestead Resort was first established in 1766 (10 years before we were even a country; that's insane!). 23 presidents have stayed at the resort, which sprawls over 2,000 acres in the rolling hills of Virginia. Our friends have a friend that is part of the owner's club, which meant we were able to stay in one of the cabins up on a hill above the resort. The view was… well… just look…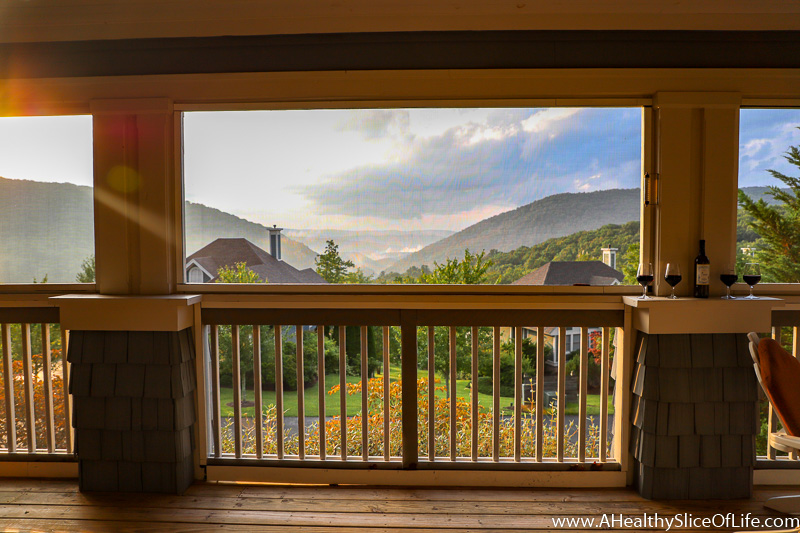 I could have done nothing but sat on that porch all weekend and I would have been happy.
The resort is massive. 283 guest rooms, 26 meeting rooms, 2 18-hole golf courses, an outdoor pool with a lazy river and two water slides, an indoor pool, tennis courts, fitness center, movie theater, ballrooms… and the list seems to go on and on.
Needless to say, there was no shortage of activities to keep us busy. Our family of four joined the crew on Friday afternoon (it's a 4 to 4 1/2 hour drive from Charlotte) and after a quick tour of our digs, we called the resort shuttle to head down to the pool. But first, we stopped by "tea time." Each afternoon the resort offers a southern tea time which is comprised of iced tea, hot tea, and a pastry of some sort. It's not a fancy affair, but it's really cute, and of course the kids get a big kick out of it. Free mid-day sweet!
It was bright and sunny, so we spent the afternoon at the pool. Wow, what a great set up! The have a splash pad area, a giant sandbox/pit area, a regular swimming pool, a hot tub, a lazy river, and 3 water slides. It's endless entertainment and we spent a decent amount of time chasing the girls from one aquatic activity to the next.
Since our place had a full kitchen, we came back to cook our own fiesta-themed dinner and ate in on the back porch while watching the sun go down. Then we headed back to the resort for fireside smores, then we all sat on the grassy hill and watched the resort fireworks show. Watching Hailey's face light up at the fireworks made my heart swell; those special summertime moments are the best.
Saturday morning had a relaxed start. Coffee, tea, pancakes on the porch- it was a great way to ease into the day. Once we finally got ourselves together, we took off on a walking trail towards the stables on premises. The temperature could not have been more perfect, warm, but not hot, with limited humidity and I felt like a broken record as I continuously praised it, but what can I say? The mountains are my happy place.
We arrived at the stables and I was impressed at not only how clean and well-maintained it is, but also at how all the horses are so easily accessible. We could walk right up to their stalls, pet their noses, and admire their size and beauty. The girls, though timid at first, warmed up the horses and loved touching their manes and giggling at the occasional "neigh."
After the stables we wandered through the hotel, stopped by their game room and mini bowling alley, peeked into the set up of an evening wedding, and ohh'd and ahh'd at all the history in the nooks and crannies of this magnificent hotel. I do feel like I should mention that there are parts of The Homestead that are in need of a slight face lift. Down the guestroom halls the carpet can be a little tattered and worn, and some areas may need a little fresh paint, but again, the history of this beautiful place far outweighs those minor details for me.
We returned to our place for lunch and watched an summer storm roll in, explode, then leave just as quickly as it came. With the skies sunny again, the guys to the kids to tea time and then to the pool. Jodi and I took our time, made the salad for the night, chatted a bit, then joined the gang at the pool for another afternoon of antics…
The evening came and we all headed back for showers, ordered pizza, and enjoyed in on the back porch. Around 8:30 or so, though it wasn't storming, we lost power. It was so beautiful to see all the lights in all the houses go out (though I'm wondering if the wedding guests felt the same way?). For us though, it was a treat! We had a gas fireplace, which we immediately turned on and gathered around, then to entertain our wild bunch, a game of charades broke out. It was silly and the girls absolutely loved it. We sipped wine, laughed at the crazy kids, and even when the power came back on, we turned off all the lights to continue the fun. It was definitely one of my favorite memories from the trip.
Sunday morning was a focused effort to get packed up and out the door by 10:00 AM. Though we were out of our place, we opted to spend the morning at the spring-fed indoor pool to let the kids get some energy out before the car ride home. After showing in the locker rooms, we grabbed lunch at Woody's. It was my only experience with food from the resort, and it was great! I ordered the vegan burger, which I was told was made with beans, but it turned out to be one of those Better Than Meat burgers. I still devoured it, though in my opinion, David won the ordering contest with his blackened snapper sandwich. Next time…
Speaking of next time, I think there will definitely be a next time for us. I didn't realize how much the resort offered. There are plenty of hiking trails I'd love to come back and experience, plus I'd love to get the girls (and myself) up on a horse. There is nearby canoeing, sporting clays, a zipline course, and more. A lot of these things do cost extra, but I was impressed that each day they also had a list of complimentary family-friendly activities. From a pop-up petting zoo, to dive-in movies, to family yoga and smores, it's part of their Great American Family Vacation initiative and I loved it. It felt fresh out of Dirty Dancing.
All in all it was a really great weekend getaway. I'm grateful that our good friends invited us to tag along and though I'm not usually big on repeating vacation spots, I do think The Omni Homestead Resort is worth a repeat trip. Maybe during the fall to see the beautiful colors on the rolling hills of Virginia? Now that sounds pretty magical! Until next time…