Warning: this is long.
…Ok, you've been warned.
Now that we are home and settling in, we are fully immersed in our new monthly budget. Dare I say I'm loving it? I'm going old school with my notebook and pen and enjoying using it as a giant checkbook, scrolling down and subtracting each purchase we make.
A budget is different to each person, so this post is just sharing ours and is in no way intended to tell others what they should or shouldn't spend. We took a closer look at our budget and decided we spent too much money on eating out. I had gotten into a bad habit of cooking all week, then we'd spend the weekend eating out for almost every meal. After all, we were out of food at home by then!
So after a family budget meeting (gosh, we are such happy nerds!), we decided to attempt to eat more meals at home, and make our budget for groceries $560 for the month. Though this is a substantial increase in our budget, the money we will theoretically save from eating at home will greatly outweigh the increase.
I know to some this may seem extravagant and others are wondering how we do it on only that much, but this number felt like the right place to start for me. It expanded our grocery budget, but now we'll need to get 2 more days of meals out of it. Also, I want to keep the quality of our meals high. Food is something I feel is important to our family's health and therefore a priority in the budget.
Ok, so what does that look like for 1 full week's worth of food?
As usual, I started with planning the meals-
Chicken Burrito Bowls
Greek Shrimp, Tomato and Feta Skewers, Grilled Corn and Salad
Quinoa Pasta with Summer Vegetables and Goat Cheese
Grilled Steak, Baked Potatoes, Asparagus and Squash
Homemade Veggie Pizza
Gyro Burgers on Pitas and Salad
I also wrote out lunch (quinoa/salad bowls) and breakfast (eggs, fruit, oatmeal) options, as well as snacks needed for David's snack basket.
I did things a bit backwards this time and actually hit up the farmers market before writing my list. Since I wasn't sure what I needed, I just grabbed some basics that I know I will always use.
Farmers Market Total- $15.45
Luckily we weren't charged for Hailey's thievery.
Gotta watch her like a hawk around tomatoes. I can't say I blame her though.
Then, it was on to Whole Foods!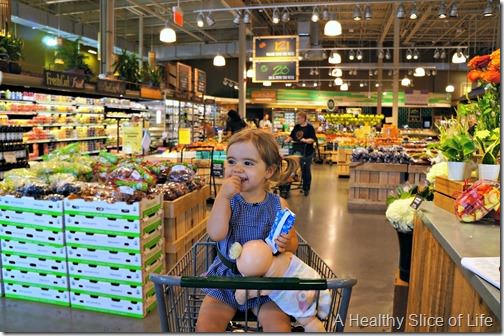 We made the trek down to Charlotte because a friend had generously gift me a gift card and I was aching to use it! (Thank you Jordan!!!)
Though I had wandering eyes, I was determined to stick to the list. When the butcher said they were out of ground lamb, my list-holding, type-A self must have looked like someone kicked my dog. Craig (the butcher) asked me what I needed it for and when I told him about my gyro burgers, he suggested ground bison. I loved the idea, but explained to him it cost twice as much and I was on a budget. He graciously offered to let me try it at the lamb price! I was incredibly impressed with their customer service.
When I was trying to choose a steak, I started chatting with a vendor. Steve, from Brasstown Beef, was letting people sample his ground beef. It was delicious and we struck up a conversation about how his farm was only minutes away from where David and I got married. Then we started talking about his high-quality, antibiotic-free and hormone-free beef. I was so impressed with his dedication to quality (read more about it here) that I picked up a rib-eye and left with a new friend.
A full cart and several kids snacks later, we were headed home!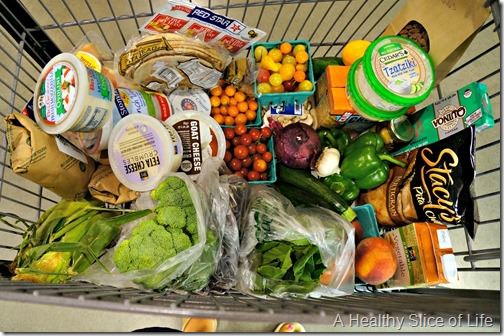 Whole Foods total- $124.62
Though my heart started racing as the total inched over $100, I reminded myself that I went in planning to buy more than usual.
Tzatziki $3.69, Stonyfield Yogurt $3.39, Feta $2.79, Sour Cream $1.59, Goat Cheese $2.99, Fresh Mozzarella $4.49
1 lb Wild Caught Shrimp $10.07, 1 lb ground bison $$7.91, Natural Chicken $6.71, Brasstown Beef Rib-Eye $16.71
Organic Romaine $1.99, White Corn $1.20, Organic Broccoli $4.43, Organic Red Leaf Lettuce $1.99, Meyer Lemon $0.70, White Mushrooms $2.49, 3 Organic Green Peppers $4.03, 2 Zucchini $1.41, Cucumber $1.24, Red Onion $0.79, Garlic $0.44
Yellow Peached $3.49, Organic Cherry Tomatoes $3.11 $2.75 $2.91
Clif Crunch Bars $2.50 each, Stacy's Pita Chips $2.50, Bulk Almonds $6.69, Organic Green Olives $3.29, Organic Vegetable Broth $1.99, Quinoa Pasta $3.39, Wheat Pita Bread $2.29, Hummus $1.50, yeast $2.19
The week's grocery total ended up at $140.07. I am pleased with where the total ended up, but am curious to see if it will indeed last us a week. We have some fancy things (fancy steak) on the menu this week, so I know I can bring the total cost down next week with some less expensive meals.
Last night I made Mexican layer bowls/burrito bowls using this cilantro lime quinoa as a base.
Budget month started off on quite a tasty foot!
What is your favorite food budgeting tip?