It's incredible how much I've learned already from watching our grocery budget more closely. I am planning a whole post on what I've learned and and what I'll do in the future, but for now, the budget continues!
I had to stop by Harris Teeter on Friday (before the week was over) for a few essentials.
Essentials would be eggs, cheese and wine. You know, just the basics!

I also picked up some cauliflower, bringing the total to $36.02 thanks to the remaining coupons I had for Red's frozen burritos and quesadillas.
I mentioned that David worked Saturday, so I switched things up and meal planned that morning.
I planned out my meals, then mixed the days up again. But tentatively…
Sunday– Sweet Potato Chili
Monday– Shrimp Fried Quinoa
Tuesday– Chicken Salad Sandwiches, sweet potato rounds, roasted broccoli
Wednesday– Grilled salmon, green beans and roasted potatoes
Thursday– Pulled Pork BBQ (from freezer) and salad
Friday– Burgers on the grill, grilled corn and kale chips
Since it was a weekend, we took a relaxed approach to grocery shopping and filled up the whole morning. We grabbed a few items at the Davidson farmers market.
Local, free range eggs $3.50, Corn $0.50 each, Peppers $1.00 each, jalapeno $0.10
Total $8.10
We then headed over to Healthy Home Market to take advantage of the bulk bins. Watching the budget more closely has turned me into a price detective.
I learned I could save almost $3.00 a pound by getting cashew pieces instead of whole cashews!
Raw Cashew Pieces $2.18, Dried Organic Black Beans $1.25, Almonds $2.87, Craisins $2.18, Organic Vegetable Broth $1.69 each, Tuna Fish $2.99, Organic Pretzel Bunnies $3.49, Organic Quinoa $1.30
Total $20.02
Then, to Target…
…where the big kid carts made Hailey's entire day!
We finished off the list here, though we made a few swaps along the way. $5.00 for asparagus just isn't going to fly with me right now, so we opted for green beans instead. We left off the jerky because it just looked so sad in its prepackaged state. Thinking of making it myself next week if the budget allows.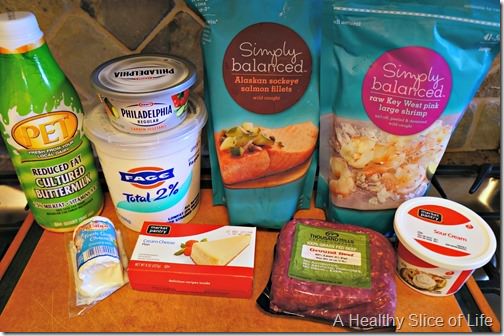 Buttermilk $2.44, Garden Vegetable Cream Cheese $2.24, Fage Greek Yogurt $5.99, Goat Cheese $3.99, Target Cream Cheese $1.99, Frozen Wild Caught Salmon $10.94, Frozen Wild Caught Shrimp $9.59, 100% Grass-fed Ground Beef $7.99, Target sour cream $1.04
Parsley $0.69, Kale $0.99, Bok Choy $1.30, Sweet Potatoes $2.09, Lime $0.39, Green Onions $1.29
Cucumbers $1.28, Green Beans $1.89, Organic Carrots $1.09, Organic Celery $2.69, Organic Broccoli 3.49, Cherry Tomatoes $2.99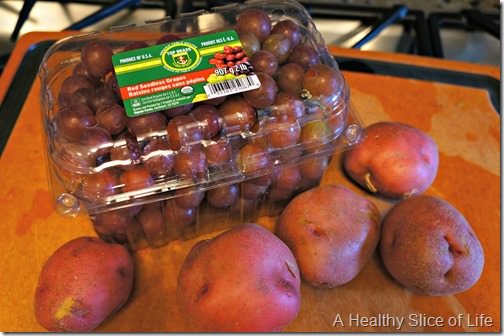 Organic Grapes $4.99, Red Potatoes $1.59
Total Target bill was $74.43.
Like I mentioned yesterday, I did some food prep on Sunday.
I had frozen English muffins and sausage leftover from a couple weeks ago and used those to make a batch of Mom McMuffins. I also made black beans, which went into the sweet potato chili after I saved a few. I made a batch of quinoa and boiled eggs, too.
The grocery total for this week, plus the essentials pick up last Friday brings the week total to $138.57.
We are almost halfway through the month and so far I've spent $278.64. When I factor in my $20 mis-steak, I have $261.36 left for the month.
Also, I totally forgot to buy chicken for the chicken salad sandwiches. Meal planning FAIL. David ended up having to be away for work last night, so I just ate salad stuff and popcorn for dinner. Now I'll sub the shrimp fried quinoa for the chicken salad sandwiches. Flexibility for the win.
These budget posts… love 'em or hate 'em?