Warning, this Invisalign overview shows pictures of my teeth scans. If you think that stuff is weird, you may want to skip this post 🙂
I shared a little bit behind my reason for wanting Invisalign (and the self-imposed drama from the first opinion I got) here. However, I never really got into the nitty gritty of it all. Before I started my Invisalign treatment I had a lot of questions, so I'm hoping that this post will help answer the same questions I had before I got started for those looking into it.
Currently I am six weeks into my treatment, so here is a little play by play to how the process has gone.
The Why
My dentist had recommended a night guard for me since I clenched and grinded my teeth in my sleep. This resulted in pain and tension in my jaw. Additionally I wanted to straighten a crooked bottom tooth and stop a front, upper tooth from poking out further, so I figured it would be wise to do that before paying for the mouth guard. I went to see an orthodontist that my dentist recommended. That was a bust. Not sure where to turn to next, I found a coupon in the mail from $500 off Invisalign treatment at a local orthodontist and decided I might as well go in for a consultation.
The Consultation
At the initial consultation, they took pictures and looked at my x-rays. They poked around in my mouth and concluded I would be a good candidate for the treatment. They estimated it would take about 9 months to get the results I was after. I was told several times the importance of wearing the trays 22 hours a day, and had to agree that I would abide by that on several occasions. It sounded good to me, so next we discussed payment.
I had checked my dental insurance before going in. I found out that insurance would cover about half the cost. From there, I had a $500 off coupon (which they said had brought them in so many new patients) and finally, I got an additional 5% off for paying in full. It still wasn't cheap, but much less expensive than jaw surgery for fixing my bite and jaw tension.
The Follow Up
At my follow up appointment, I paid the balance, then the tech used a tiny camera on a very expensive piece of equipment to take detailed pictures of my teeth and bite. When she finished, it compiled them together into a virtual mold to send to Invisalign.
They explained this would help determine how many attachments I needed, where they would be placed and made for a much more accurate plan than an actual mold.
Roughly three weeks later, I got the call that my trays were in and I needed to come in to get my attachments to get started.
Getting my Attachments and Trays
When I arrived, I got to see the projected before (on the left) and after (on the right) pictures.
The results looked good to me!
Peace out gap and overbite!
I was so excited by the after pictures and by the news that I didn't need any attachments on my front teeth.
They applied the attachments, which are small, smooth plastic "bumps" to specified teeth with a bonding agent. These stays on your teeth the entire length of your treatment and help move the teeth more efficiently by applying pressure on certain points of the teeth.
I have four attachments on my lower left side, one on my lower right side, two on my upper left side and two on my upper right. I've heard some people find them really annoying, but they don't really bother me.
Once the attachments were put in place, I received my first set of trays and my next 2 sets as well, since you switch to the next tray set every two weeks.
They made sure I was able to pop them in and out on my own, then sent me on my way.
My Inititial Reaction
My initial reaction was extreme joy! I finally was on the path to ease my jaw pain, fix my bite and straighten that pesky tooth. I was also thrilled that they really weren't very noticeable. In fact, if it weren't for my slight lisp and the attachment on my left lower tooth, I'm not sure anyone would notice them. See, here I am with the trays in–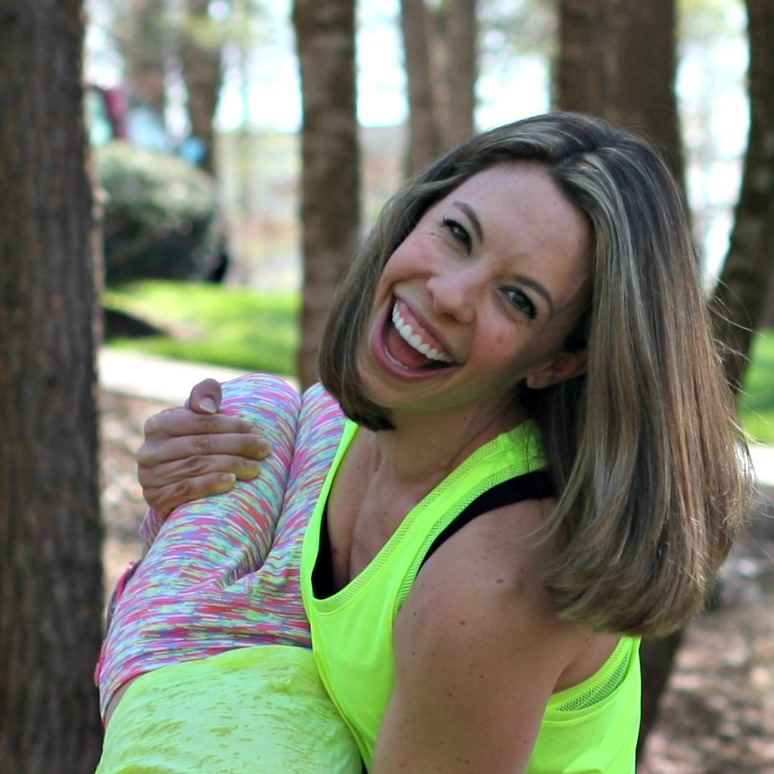 (only recent picture I had– I'll show more of a close up next time)
However, that evening, the pain set in. Under the notes I took, I just have OWWWWWWWW written.
It hurt. For about three days. Not only my teeth, but also the underside of my tongue was scratched up because I kept exploring the trays with it. On one hand, I was thrilled it was moving my teeth, but on the other, I wondered if I could deal with this every two weeks when I changed trays.
After the third day, the pain subsided. Also on about the third day, I could tell my bite was already completely different. My overnight clenching pain was completely gone as well; I'm sure it was partially due to the fact the trays act as a mouth guard.
Initial Cons
The pain, a slight lisp that took a bit to learn to correct, feeling like I was pulling my teeth out when I took the trays out, not eating or drinking whenever I wanted (have to take the trays out for everything except plain water).
On the Plus Side
I was taking excellent care of my teeth, my jaw tension was gone almost immediately and the two subsequent sets of trays (changed every two weeks) didn't hurt at all.
Six weeks in, I am happy about where I am, but I can also see how exciting it must be to be finished with the treatment. It's annoying having to pop them in and out all day long and brush before putting them back in. At least I'm not in any pain and seem to be seeing results. I'm going in today to see my orthodontist for the first time since I received my trays to ensure that my teeth are moving as predicted and receive my next four sets of trays.
Whew, that was more detailed than I originally intended, but if anyone is curious about the process, I hope this helped!
If you've had Invisalign, what was your experience like? Pros/cons?
Have you ever had to do any orthodontic work as an adult? 
I'm surprised by how many of my friends have had braces, Invisalign, teeth pulled, etc as adults!