Let's sit down with a cup of whatever you're drinking. For me lately, it's been this combo:
That would be 1 tsp of matcha, 1 Tbsp of collagen, juice of half a lemon, and a solid squeeze of honey. It's not going to thrill your taste buds, but it's decent and has me feeling pretty energized and healthy in the mornings. Maybe it's mental. Anyway, cheers!
If I'm being honest, I'm feeling quite scatterbrained. I'm actually not stressed or overwhelmed, but just feeling like I can't get in a rhythm lately. Maybe it's summer and if that's the case, I hate to concentrate on it too much because the next month is going to be all over the place for our schedule as well with a few fun trips on the books. Still, for whatever reason I'm perturbed that I just can't fit it all in.
If I'm being honest, I thought as we slowly moved out of the baby phase, I'd find myself with more time. HAHA. Though I can send the girls to play in the other room now with varying degrees of success, I find things overall are much busier than ever, even compared to 2 years ago when Kaitlyn was brand new. Our lives are very full (and very happy) right now; I just feel like I'm sitting back with all these puzzle pieces of life spread out before me, determined to find a way to make them fit seamlessly together.
Have you bought this reading book yet? It's great!
Believe it or not, I've never felt the need to be the woman that can do it all. However I do struggle with the fact that I WANT to do it all. I want to invest quality time in my marriage. I want to be the one with my girls 99% of the time. I want to be household CEO and handle scheduling the plumber and stocking the fridge. I want to make all our meals. I want to give myself to this space. I want to feel strong and fit. I want to spend time with friends, laughing in ways that only other women understand.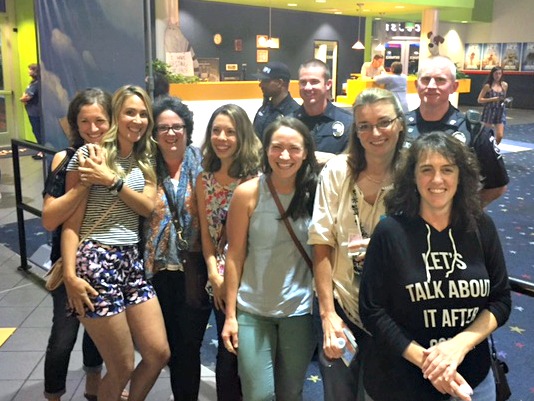 Our group last night seeing Bad Moms with the cops that had to come kick out some moms that were a little too rowdy. The irony was not lost on us.
I want to plan for the future, but enjoy the now. I want to go visit family, but also find time to relax at home. I want to be mom, but want to explore my own personal growth and interests too.
If I'm being honest, the demands from society to take care of yourself juxtaposed to the message to soak up these fleeting years can be deafening. It's a lot to juggle without feeling like you're somehow screwing it all up.
Typing it all out sounds like the stereotypical struggle with finding balance. But if I'm being honest, I'm really not feeling overwhelmed, just perplexed. Things are falling through the cracks (emails, house maintenance, unanswered text messages, etc) and I think I finally know I'm at a crossroads where I have no choice but to learn to delegate.
Darn it.
If I'm being honest, I always hated group projects. I'd rather just do the whole thing myself. However, I can't do that anymore. Something has got to give. But how do you order your priorities when you have 20 things crammed into the top 5 slots?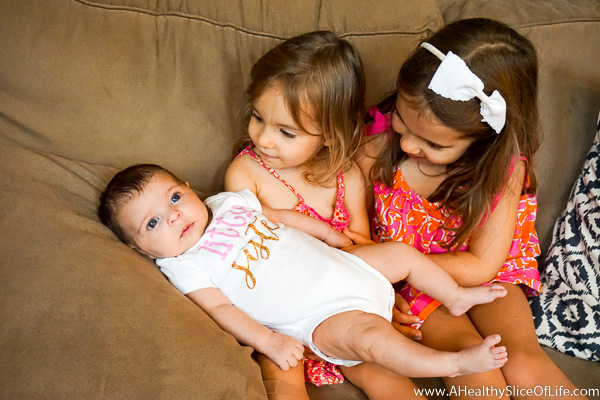 The girls with their new baby cousin who gave me a severe case of baby fever to boot.
I think I need to tune out the noise. I need to let go of the guilt. I need to let go of some of the control. I need to relax my innate need to please. I need to stop reading about what I need to do to be a good mom/run a successful blog/be healthy. I'm ready to figure out exactly what my balance looks like. Is it getting a one-day a week nanny? Is it blogging less/blogging more/blogging differently? Is it getting up earlier or sleeping in later?
I don't know, but to start I'm taking away all the rules I have set up unnecessarily for myself. Though I'm someone that appreciates setting expectations and am committed to following through on my word, maybe it's time for me to stop implementing all these self-imposed parameters. The world won't stop if I skip a day of blogging. It also won't stop if I blog everyday for a week about nothing more than how we've been wandering around Charlotte or what we ate for dinner.
I imagine it will also keep on turning if I'm a little behind on emails or if we eat grilled cheese sandwiches for dinner twice in one week.
If I'm being honest, I know this post is all over the place. And there is no grand point or epiphany here at the end either. I'm just sharing what is going through my overactive brain and saying I'm not sure what the answer is. Maybe next I'll share some of my favorite parenting wisdom and make a beautiful pinterest-worthy image to go with it and implore you to share it. And then maybe I'll show a blurry picture of our trip to Publix to check out their grand opening, gush over how excited I get by grocery stores, and then confess how I will write an entire post dedicated to how busy life is, but that I then spent 15 minutes of my "precious" time trying to learn what instagram stories are and why I don't have them yet. (spoiler alert: I still don't have them?)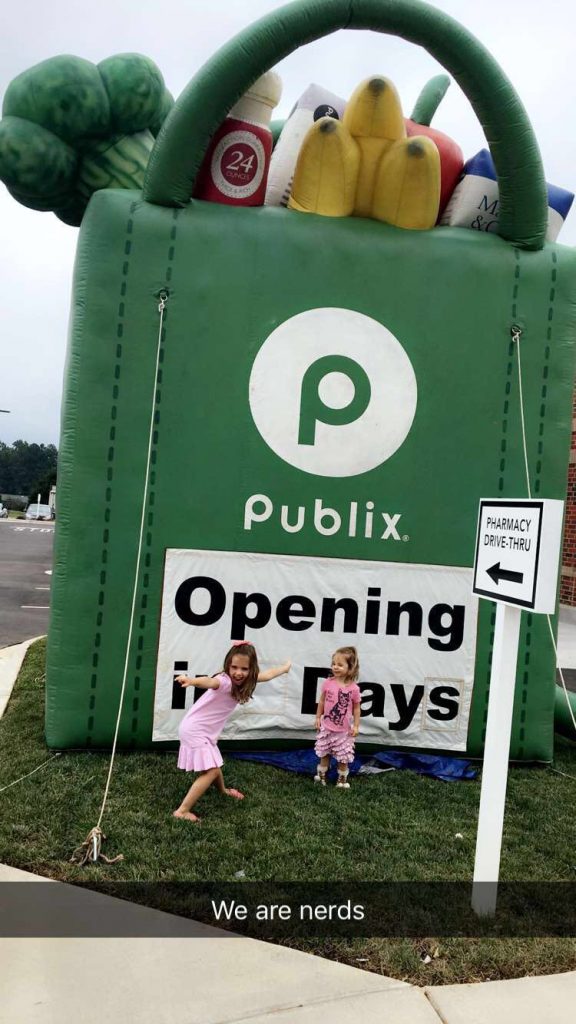 Snapchat is the bomb
Anyway, if you're still here reading this, thanks for following along life's journey with me. It's nice to sometimes use this space as a therapy session and appreciate your eyes/ears/thoughts.
Can anyone relate?
I hope you have a wonderful weekend!