David and I rang in the new year with our annual State of the Family date night that took place on our couch, in pajamas, and with wine on New Year's Eve. Don't let anyone ever say we don't know how to party.
But truly, it is a party for us. We relish in sitting down and being able to focus in on our finances because while we talk goals a lot, we only really dig deep into the nitty gritty about twice a year. Since I was a glass of wine in, I thought it would be fun to share a peek into our wild evening on Instagram stories because I felt I would be able to answer a lot of questions and give more insight into how we make it work for us.
First and foremost, before David and I jump into the workbook, we first review our spending habits over the past year. Since we put 95% of everything we spend on our American Express, it's easy to pull up the reports Amex generates automatically to look at our spending trend year over year, month to month, and by vendor. I know a lot of people use Mint, YNAB, Quicken, etc for finances so all of those are great options to dig up these end-of-year reports, but though we have tried all the budgeting tools, we have yet to find one that we stick with long term.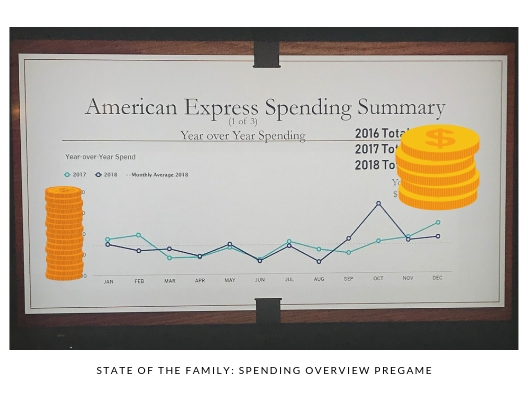 *The top merchants list is a little skewed because I now put all our Whole Foods purchases on my Amazon Prime Visa (which gives more cash back for Whole Foods purchases), but you can still see that food is a top item in our budget.
After the review of our spending, we dive into the workbooks where we calculate total liquid assets, non-retirement savings, real assets (we own rental properties), retirement funds and planning, and total net worth. None of these calculations are rocket science, but it's nice to have a map to walk us through all the finances we want to review.
Then comes our favorite part, the state of the family conversation. We use the structure in the workbook to guide us through last year's strengths and shortcomings, next year's vacations, proposed house projects, and more, elaborating on each until we reach a plan we each feel good about. I'd like to say that conversation lasted well into the night, but truth be told, we both were snoozing before the ball dropped. #partyanimals
I wanted to share this sneak peek into our State of the Family evening because I like to (over)share. But David must be bitten by the blogging bug because he wrote up a little something about how budgeting led to the creation of The State of the Family to share with you, too. I've received some questions about whether or not David is a CPA. He is not. We have a CPA and financial planners that help guide us, but he is just a finance aficionado.
We chose to create and share this because I receive a lot of questions about our finances and his leadership in our family's finances has proven themselves to work quite well over the years. There are a million ways to approach finances and first and foremost I encourage you to research and find whatever one works best for you and your family. There is no one right way. However I strongly believe that a solid family financial position begins by getting comfortable talking with your spouse about the real state of your financial situation, and that, I can say without hesitation, is something David and I do very well.
So once again, I'll hand the keyboard over to him!
---
We have received a lot of feedback about the State of the Family, and most of it is that you want more! (More insight into budgeting, how we track our finances, where we choose to invest, etc).
*head shot added in by me, Brittany, to introduce my stud of a husband properly. 😉
I have had an on-again/off-again relationship with budgeting since before Brittany and I were married. I have used paid programs (Quicken), free programs (Mint, YNAB), excel spreadsheets, and even good 'ol pen and paper. I view most of those efforts as successes even though currently we have fallen off the wagon again with tracking every purchase.
When we start budgeting closely again, I will go back to a program that connects to our bank so that it can automatically sort purchases into categories for me (almost all of our purchases are through credit cards). If you have a favorite one you like, please tell me in the comments.
Quick background before I get into how we budget. Our income is variable each month which makes automatic savings or budgeting by percentage challenging. To help make saving automatic with our variable income I created a 2nd savings account which receives the variable monthly income and automatically transfers a budgeted amount into our checking account – the money leftover in the savings account is used to pay off debt or put aside for future investments.
How we budget.
I thought if we could increase our focus on expenses we have more control over, that would reap the best improvement without stressing over too many numbers. To do that, I divided our spending into discretionary and non-discretionary.
The non-discretionary expenses are things that we didn't feel we could influence much with our habits. They tend to be fairly stable and don't fluctuate much each month. They are primarily comprised of: Mortgage, Insurance, Gas & Electric, Water bill, Cell phone, Fuel for the cars, Pest control, etc. While some of these vary (utilities & fuel) our habits aren't going to change enough to impact them greatly. By simplifying as much as possible, we are saving our focus for the discretionary expenses.
Discretionary expenses are divided into 4 categories: Groceries, Home, Personal, Travel. Each of these categories, we discuss and look at what is coming up to make sure they are realistic- birthday month? traveling to see family? something break on the car? We found that a monthly budget with weekly targets (we could borrow from one week to the next) worked best for us.
Groceries – Self explanatory, do we get to eat salmon, or ramen?
Home – This is a big catch-all category. Clothes for the kids, new rake for the yard. Most of the items that it takes to run a household fall in here. But don't forget that most of the bills have already been removed in non-discretionary expenses.
Personal – This is the category that was separate for Brittany and I, we each had some money to spend on whatever we want- pedicure, golf, etc.
Travel – This budget is decided upon at the State of the Family meeting, as we plan all of our vacations for the upcoming year. We then divide the total up into the 12 month chunks for budgeting ease. This category also is the only one that carries over from one month to the next.
So how restrictive do we try to be with the budget? Neither Brittany nor I are big spenders, so my focus was on being intentional with our decisions rather than restrictive. I also figured that if a budget started out on a sour note, it would be doomed from the start. Both of us had input and decided together what the actual numbers should be. Once we had it on paper, it was amazing how much we saved just being more diligent and intentional with our finances.
If finances are an area you're looking to focus on in 2019, my recommendation is to try to outline realistically what you currently spend in each category. Maybe even track it for a month or two before implementing parameters. Once you have that on paper, make sure you are spending less than you make each month or tweak until you are. Then try to do the 1st month within that budget. See how you did, discuss and tweak where you want to save depending on your goals. Was it easy? Too stringent? What areas caused the biggest issues?
Is all this in the State of the Family workbook? No, the workbook is a checkup. We do it twice a year, to make sure that we are on the same page with goals. We get an overview of our big picture finances and then outline our large expenses (vacation/home) so that they can be accounted for in our budget.
Obviously there are a lot of variables to everyone's specific situation. That being said, this is too important to not focus on and plan. Even if this model isn't right for you, find one that is.
---
What struggles do you have with family finances?
What about success and tips? What helps you manage family finances in your home?