In August 2021 we spent a glorious 5 days at Lone Mountain Ranch in Big Sky, Montana. Check out the details of our stay in post 1, post 2, post 3. While staying at the ranch, all your meals are at the onsite restaurant, which I never gave a detailed write up to, so I'm revisiting it now with the Horn and Cantle review.
Horn and Cantle is the onsite restaurant at Lone Mountain Ranch in Big Sky, Montana. Ranch guests enjoy all three meals of the day here, but if you are staying off site, you can still make reservations for a meal, and I highly recommend you do.
Horn and Cantle created some of the best food and experiences I've had yet in my life. The ambiance is warm and engaging, social, but intimate. The staff is friendly and helpful. But the food, oh my goodness, the food really makes it shine with seasonal ingredients, thoughtful preparation, and beautiful presentation.
Breakfast at the Ranch
Breakfast is served from 7:00-10:00 AM. They offer a variety of coffee drinks, teas, and juices. Breakfast is served buffet style and includes oatmeal, fresh fruit, breakfast breads, eggs, bacon, sausage, and an entrée of the day.
Lunch at the Ranch
Lunch is from 11:30-2:00 and is also served buffet style. You can expect soups, chilis, sandwich halves, salads, vegetables, an entrée of the day, and something sweet. Servers come around to offer drinks and to clear plates if you are going back for more.
Dinner at Horn and Cantle
Dinner is served from 5:00 PM- 9:00 PM and is the star of the show. Here you'll find a wide variety of offerings with a local, true Montana flare done in exquisite ways. From elk meatballs to cedar plank mushrooms to bison tenderloin and trout, the offerings at dinner are next level delicious. We enjoyed Wagyu beef, truffle fries, fresh tomato salads, and more.
The saloon is attached to the main dining area and the deck. It is open from 12:00 until closing and provides some simple menu items and a variety of high end spirits and cocktails.
Dinners at the ranch were some of my favorite memories. The ambiance is high end but comfortable. Presentation of the food is artistic yet approachable. The quality of the meats, the freshness of the vegetable dishes, and seasonings of the meals just knocks it out of the park every time. We didn't have a single dinner dish that didn't blow us away.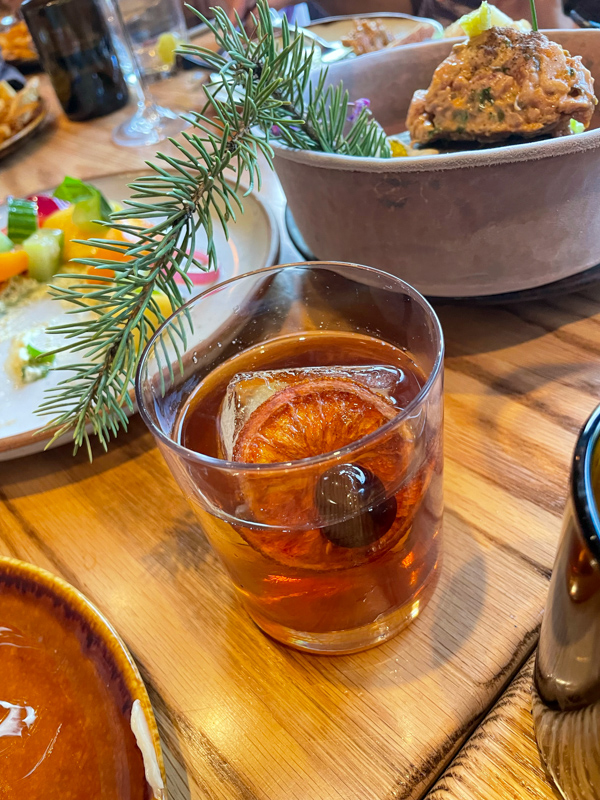 If you every find yourself in Big Sky, Montana and looking for an elevated dining experience with a warm atmosphere, beautiful views, and a culinary experience you will remember, Horn and Cantle will not let you down. It's a place I will always remember fondly and will jump at the opportunity to return to.