I love Instagram. Not only do I thoroughly enjoy scrolling through the feed, but it also feels like such a personal way to connect with y'all, especially now with the story feature. I love sharing peeks into our day (and our dinner table), getting your input on topics I'm clueless about (like how to apply face masks apparently), and sharing snippets of thoughts that I haven't gotten to flush out into a full blog post yet (like my recent homeschool update).
Since Instagram is one of my favorite ways to connect with y'all, I wanted to really wanted to shine a light on the social media outlet for February by hosting a challenge focused on the things in our lives that we love and make us feel loved. I'm so excited to follow these prompts each day myself but I'm probably even more excited to follow the hashtag (#AHealthySliceOfLove) and get to know you better by seeing what makes YOU feel lit up inside.
---
I wish I could give all of you a Valentine's Day card or bag of candy- or hemp?- hearts, just for taking playing along. But I am going to give TWO people who take part in this Instagram challenge a special gift — a free planner from my friends at kitlife!
(To enter, you just need to comment on one of my posts @ahealthyslice that uses the #AHealthySliceofLove hashtag, or post something on your own Instagram feed using the hashtag so I can see it. I'll be looking at every one and selecting two of my favorites for the prizes! Please note that while I would love to see you sharing this in your Instagram stories, those will not count as entries in the contest. I'll contact the winners via Instagram DM!)
And kitlife also has a special offer just for A Healthy Slice readers. If you buy a planner in February, use the code HEALTHYSLICE in the comment section of the order and kitlife will include a free bonus clip cover, all in the spirit of love (note: this is good as long as supplies last!). So if you want to "taco" about love, you can get this one.
Or, pick this one — You Are My Sunshine is a such a sweet song!
---
Here are some prompts to get you started, but feel free to add your own! I've added suggested dates next to each one, based on when/what I'll be posting, and so that you can join in and comment through the month. But if you want to move the order around, skip a prompt or add your own, please do! I just want to see what makes you happy and feel loved.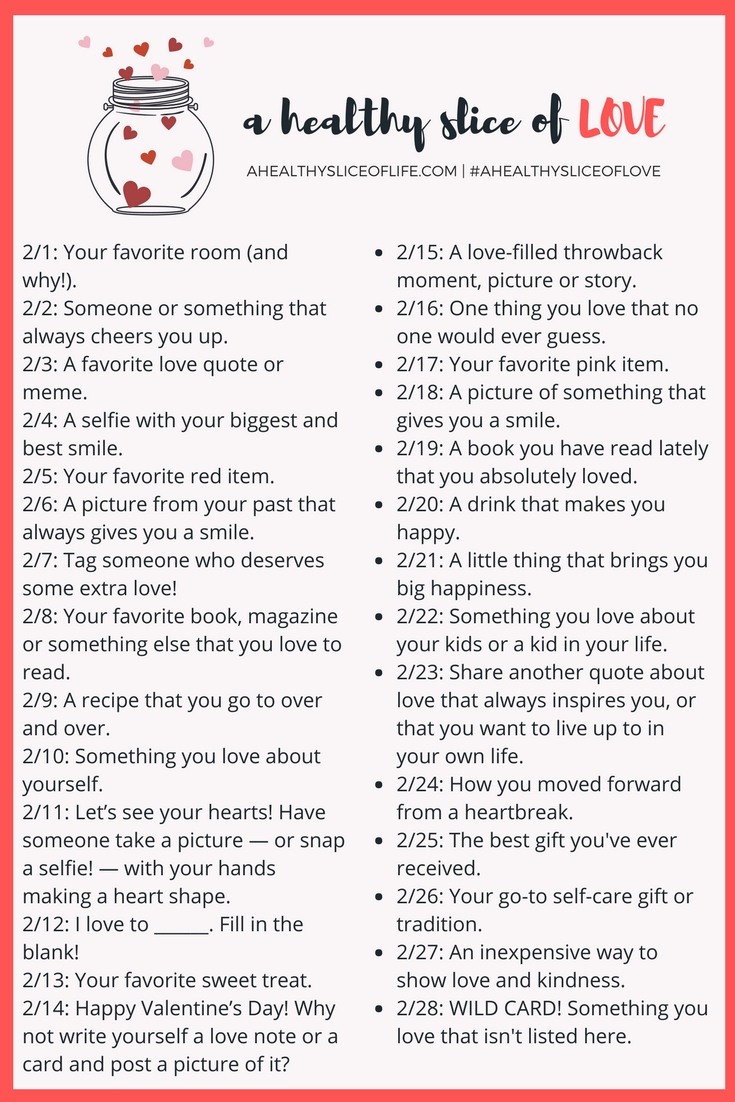 2/1: Post a picture of your favorite room in the house and say why you love it.
2/2: Post a picture of someone or something in your life that always cheers you up on a bad day.
2/3: Post your favorite quote or meme about love (and it doesn't have to be romantic love!).
2/4: Post a selfie with your biggest and best smile — or if you're not comfortable with that, post a picture of the last thing that made you smile!
2/5: Post a picture of your favorite red item — a piece of clothing, your laptop case, a notebook, a pair of shoes, your favorite serving dishes, or anything else!
2/6: Post a picture from your past that always gives you 😍. Maybe it's a family snapshot, or a picture of you with a childhood pet, or a day in your life that made you proud. Be creative — there are no rules!
2/7: Post a picture and tag someone on Instagram who you think deserves some extra love. Tell us about him or her and why it's such a special person in your life!
2/8: Post a picture of your favorite book, magazine or something else that you love to read.
2/9: Post a picture or tag someone who has a recipe that you go to over and over.
2/10: What's something you love about yourself? Share a picture (maybe it's your smile or your handwriting or a special skill you have)!
2/11: Let's see your hearts! Have someone take a picture — or snap a selfie! — with your hands making a heart shape. For bonus points, tag someone and encourage him or her to share a picture, too.
2/12: I love to ______. Fill in the blank with a picture!
2/13: What's your favorite sweet treat?
2/14: Happy Valentine's Day! Why not write yourself a love note or a card and post a picture of it?
2/15: Do you have a throwback picture from a past Valentine's Day, or another love-filled moment in your life? Share it! There are no rules, so this could be from prom, your wedding day, the day you brought home a pet, or anything else.
2/16: What is one thing you love that no one would ever guess? A sports team? A certain scent (like gasoline)? Or a crazy kind of music?
2/17: Post a picture of your favorite pink item — a piece of clothing, your laptop case, a notebook, a pair of shoes, your favorite serving dishes, or anything else!
2/18: Today, take a picture of something that gives you 😍. Is it a rainbow? A beautifully organized closet or pantry? A picture you snap of your kids playing together? Whatever makes you feel happy.
2/19: What book have you read lately that you absolutely loved?
2/20: Take a picture and/or share the recipe for a drink you love and makes you happy. Is it wine/tea/latte? Perhaps a health concoction?
2/21: Gretchen Rubin talks about embracing the little things that equal big happiness. Mine is a lit candle and a wiped down kitchen counter. What is yours?
2/22: We all love our children, but what is one particular trait about them that you absolutely adore? Share a picture and tell us what makes them shine!
2/23: Share another quote about love that always inspires you, or that you want to live up to in your own life.
2/24: Have you had your heart broken? Share a photo or a story (and tell us how you moved forward).
2/25: What's the best gift you've ever received? Share a picture and a story!
2/26: Today, give yourself the gift of self-care and then tell us what it is. A warm bath? A mug of tea and a good book? 5 minutes of meditation? (It all sounds good!)
2/27: What is something you do for others when you want to practice kindness but not spend a lot of money? Share it and inspire others!
2/28: WILD CARD! Share something that you love I didn't include!
I really look forward to sharing more of my life through this challenge and seeing what is special and meaningful in your world too. It's February, the LOVE MONTH, after all and you know I'm no stranger to gratitude, a focus on the positive, and a sprinkle of cheesiness here and there. We could all use a little more of that, right? I'm excited for you to join me in celebrating the good stuff!