I'm on WCCB News Rising again this morning, this time talking healthy Halloween snacks! It's a little early, but I know fall festivals, classroom Halloween parties and neighborhood party planning are in full swing. And at least I'm not already making things with candy canes like all stores right now (I'm looking at you, Target).
These snacks were quick to come together and are festive alternatives to candy and cookies. Oh, and they are kid-approved. Hailey got quite the kick out of them!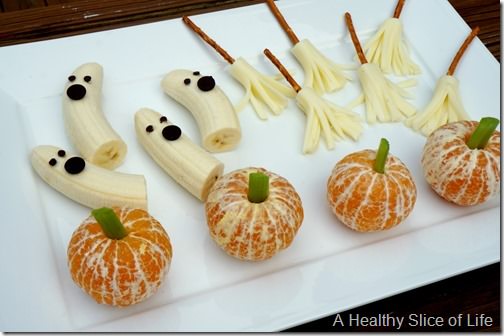 Here's what we've got…
Witches Brooms.
Ingredients: Pretzel sticks, string cheese.
Directions: Cut string cheese in half. Using a knife, slice cheese through the center, almost to the top. Turn 90 degrees and make 3-4 more thin cuts. Separate the pieces and insert the pretzel stick.
Grilled Cheese Jack-o-Laterns
Ingredients: Whole wheat bread, cheddar cheese.
Directions: Broil bread on both sides until toasty. On half the bread slices, cover with cheddar cheese. Broil until melted. Using a pumpkin-shaped cookie cutter, punch out pumpkin shapes. Using a straw to poke the eyes and a knife to carefully cut out a mouth, make a jack-o-later face on the un-cheesed bread. Layer and enjoy!
Crazy-Eye Carrots
Ingredients: Carrots, hummus, black olives.
Directions: Slice carrots into rounds roughly 1/2 inch thick. Spoon hummus into a plastic zilock bag and squeeze into corner. Snip the corner with scissors, then pipe the hummus onto the carrots to make the eye "whites." Slice large black olive in half and place half on top of the hummus.
Mini Party Pumpkins
Ingredients: Tangerines, celery.
Directions: Peel tangerines. Slice celery in half, then into pieces about 3 inches long. Insert into tangerines.
Scary Spider Snack Bites
Ingredients: Carrots, guacamole/avocado, black olives.
Directions: Slice large carrots into rounds, about 1/2 inch thick. Spoon guacamole or mashed avocado into a plastic ziplock bag. Squeeze into a corner, then snip off the tip with scissors. Pipe the guacamole onto the carrots. Slice one large black olive in half. Use half as the spider's body. Slice the other half into pieces to create the legs.
Boo-Nanas
Ingredients: Bananas, mini chocolate chips, large chocolate chips.
Directions: Slice bananas in half. Push mini chips in as eyes and a large chip to serve as the mouth.
Do you like making holiday-themed foods and treats?
What is your favorite holiday to prepare for?