My goodness, hello! I've missed you. It feels so good to be back typing on my computer and pretending to be Carrie Bradshaw circa 2002… with much more subdued content of course. Pardon me if I'm rusty as I blow the dust of my keyboard. The week break really served me well between getting extra sleep, checking of several to-dos that were long overdue, hanging out with friends, and getting things in order for fall.
Speaking of fall, I organized our schedule and got together with a few of my friends that also do homeschool.
The girls are all around 5/6 years old so they compared tooth fairy stories and ran around giggling while I picked my friends' brains. I'm grateful to have such a wealth of experiential knowledge at my fingertips and am excited to get things rolling on the school front come fall.
For now though, we are still enjoying the relaxed schedule of summer, which allows for sleeping in (Kaitlyn has taken to skipping nap most days then sleeping in until 8 or so, so our schedule is alllllll over the place) and slow moving mornings at home.
I've tried to get Kaitlyn back on the nap train, but most days she'll just play in her crib for 1-2 hours, wide awake. She must have worn herself out celebrating Chase's 1st birthday though because she took a solid 2 hour snooze afterwards!
Julie put together such an adorable party and it was so much fun to see Chase celebrating the big 0-1 with family and his baby friends. It was the first party I've been to where my kids were the BIG kids. It was a surreal feeling since I still consider my girls to be my babies (maybe I always will?) so I distracted myself with the delicious spread of food.
It worked.
Sunday was pretty much spent prepping for family visitors! Last night my SIL, Cara, my two nieces, and their sweet au pair, Michelle, arrived to spend a few days with us. Kaitlyn was over the moon excited!
picture from snapchat
She kept doing a happy little jig and shouting "baybe yay-shee" (baby Lacey). So sweet!
They'll be here for a few days and we have all sorts of fun things on the agenda since Lacey apparently prefers to be on the go. So on the go we shall be! I also lined up my favorite go-to dinners for feeding visitors.
I always start with homemade pizza night. I make the dough in the bread machine, then everyone can top it anyway they like. So easy!
Tonight will be fajita night as we settle in to enjoy what is sure to be the most dramatic rose ceremony ever. I love pizza and Mexican-themed nights because guests can customize the meals anyway they like. I plan on setting up an assembly line of chicken, sauteed veggies, refried beans, and plenty of toppings (the best part).
Then night three, we'll have my mom's spaghetti recipe with salad and bread. The hearty meat sauce is a favorite for kids and adults alike. Plus it's an easy recipe to double to ensure there is plenty to go around.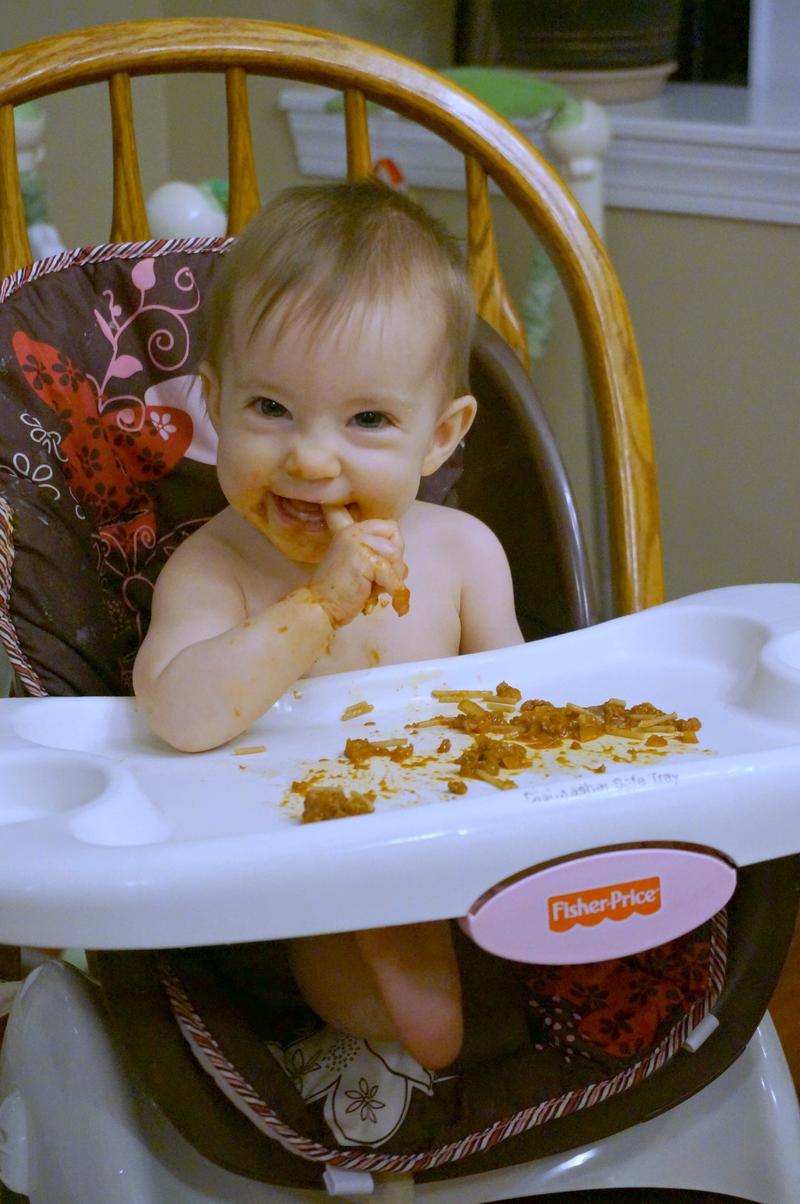 Oh my gosh, stop it with your 8-month-old-self baby Kaitlyn! My heart can't handle it.
And with that, I'm off to check and see who is awake. Let the fun begin!
What have y'all been up to?
Are you gearing up for fall yet?
It is August after all!
And August 1st, which means my Grandma Betty is turning 96 years old today! She's amazing and she even reads my blog everyday.
I love you so much Grandma Betty and will be down to visit soon!