Hailey loves to read. While Kaitlyn prefers audiobooks, Hailey looks forward to crawling into bed at a decent hour so she has time to read a few chapters before going to sleep for the night. She has narrowed in on a preferred genre; she likes fantasy, fairytales, and anything full of adventure and magic. Throw in a little history, as a cherry on top!
I asked her to compile a list of her favorite books and series for me to share with other kids her age that might be looking for some book recommendations. She jumped at the opportunity and here are the winners that she highly recommends!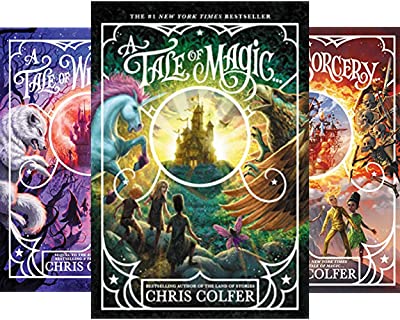 A spin-off of the wildly popular The Land of Stories series (another series we all highly recommend, as we've listened to them together… twice), Hailey recommends this series because they are full of twists and turns and adventures. She loves how it ties in fairy tales and in her opinion, "they're very well-written."
When Brystal Evergreen stumbles across a secret section of the library, she discovers a book that introduces her to a world beyond her imagination and learns the impossible: She is a fairy capable of magic! But in the oppressive Southern Kingdom, women are forbidden from reading and magic is outlawed, so Brystal is swiftly convicted of her crimes and sent to the miserable Bootstrap Correctional Facility.
But with the help of the mysterious Madame Weatherberry, Brystal is whisked away and enrolled in an academy of magic! Adventure comes with a price, however, and when Madame Weatherberry is called away to attend to an important problem she doesn't return.
Do Brystal and her classmates have what it takes to stop a sinister plot that risks the fate of the world, and magic, forever?
Hailey enjoys how the characters in these stories are children of the Greek gods. She's only one book in but is starting to plow through the others. She says the powers make the stories exciting, as the characters must use them to fight monsters.
Accompany the son of the sea god Poseidon and his other demigod friends as they go on a series of quests that will have them facing monsters, gods, and conniving figures from Greek mythology. Do they have what it takes to save the Olympians from an ancient enemy?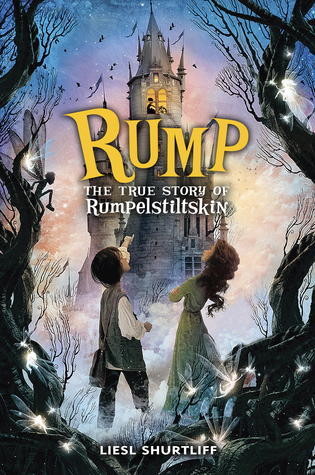 Hailey recommends this whole series (but says to start with Rump!) because of the unique and funny twists brought to life through these "true stories" of popular fairy tales.
In a magic kingdom where your name is your destiny, 12-year-old Rump is the butt of everyone's joke. But when he finds an old spinning wheel, his luck seems to change. Rump discovers he has a gift for spinning straw into gold. His best friend, Red Riding Hood, warns him that magic is dangerous, and she's right. With each thread he spins, he weaves himself deeper into a curse.
To break the spell, Rump must go on a perilous quest, fighting off pixies, trolls, poison apples, and a wickedly foolish queen. The odds are against him, but with courage and friendship—and a cheeky sense of humor—he just might triumph in the end.
Hailey recommends these books because you get to insert yourself into history and travel along the Oregon Trail. The decisions you make as you choose your own adventure (so fun), dictate your future. She loved trying all the different paths to see if she had what it took to survive the harsh conditions of this time in US history.
 It's 1850 and your first goal is to get your family, covered wagon full of supplies, and oxen to Chimney Rock on time. But hurry–you'll need to make it through the rugged mountains before winter snow hits. Plus, there are wild animals, natural disasters, unpredictable weather, fast-flowing rivers, strangers, and sickness that will be sure to stand between you and your destination!
    Which path will get you safely across the unforgiving terrain–from Independence, Missouri to Oregon City? With twenty-two possible endings in each book, choose wrong and you'll never make it on time. Choose right and blaze a trail that gets you closer to your final destination–and don't forget to look at your map!
Hailey says that if you like adventurous, mystery-solving, spy content, then these books are for you. Like the National Treasure movies? She says you'll like these, too!
Can an undercover nerd become a superstar agent? Ben Ripley sure hopes so—and his life may depend on it!
When Ben Ripley is recruited to the CIA's Academy of Espionage, it's a dream come true. But as soon as he gets on campus, Ben finds out that Spy School is way more deadly than debonair. And given his total lack of coordination and failure to grasp even the most basic spying skills, Ben begins to wonder what he's doing here in the first place.
Luckily, through a series of hilarious misadventures, Ben realizes he could actually become a halfway decent spy…if he can survive all the attempts being made on his life!
Hatchet by Gary Paulsen
Hailey recommends this book because she found it intriguing to see different ways to survive in the wild. She enjoyed putting herself in his position and thinking about all the things you would need to survive- food, water, shelter, etc- and how she might do it herself.
Thirteen-year-old Brian Robeson, haunted by his secret knowledge of his mother's infidelity, is traveling by single-engine plane to visit his father for the first time since the divorce. When the plane crashes, killing the pilot, the sole survivor is Brian. He is alone in the Canadian wilderness with nothing but his clothing, a tattered windbreaker, and the hatchet his mother had given him as a present.
At first consumed by despair and self-pity, Brian slowly learns survival skills—how to make a shelter for himself, how to hunt and fish and forage for food, how to make a fire—and even finds the courage to start over from scratch when a tornado ravages his campsite. When Brian is finally rescued after fifty-four days in the wild, he emerges from his ordeal with new patience and maturity, and a greater understanding of himself and his parents.
Do you have a 10 or 11 year old in your life that has a favorite book? What is it and why? We're always looking for new books, so all recs welcome!