Not all board books are created equal! Here are our favorite board books for toddlers with tips for choosing ones that will stand the test of time.
Before having kids, I never realized how early they take a liking to books. It's crazy isn't it? Some fall in love with them before their first birthday and many of them are hooked for good during the toddler years. I know most mornings I find Kaitlyn (20 months) like this:
I don't know how she finds room to sleep, but goodness knows I better not try and remove even one of those books.
I reckon before kids I didn't give much thought to which books are better either. Books and books, right? WRONG.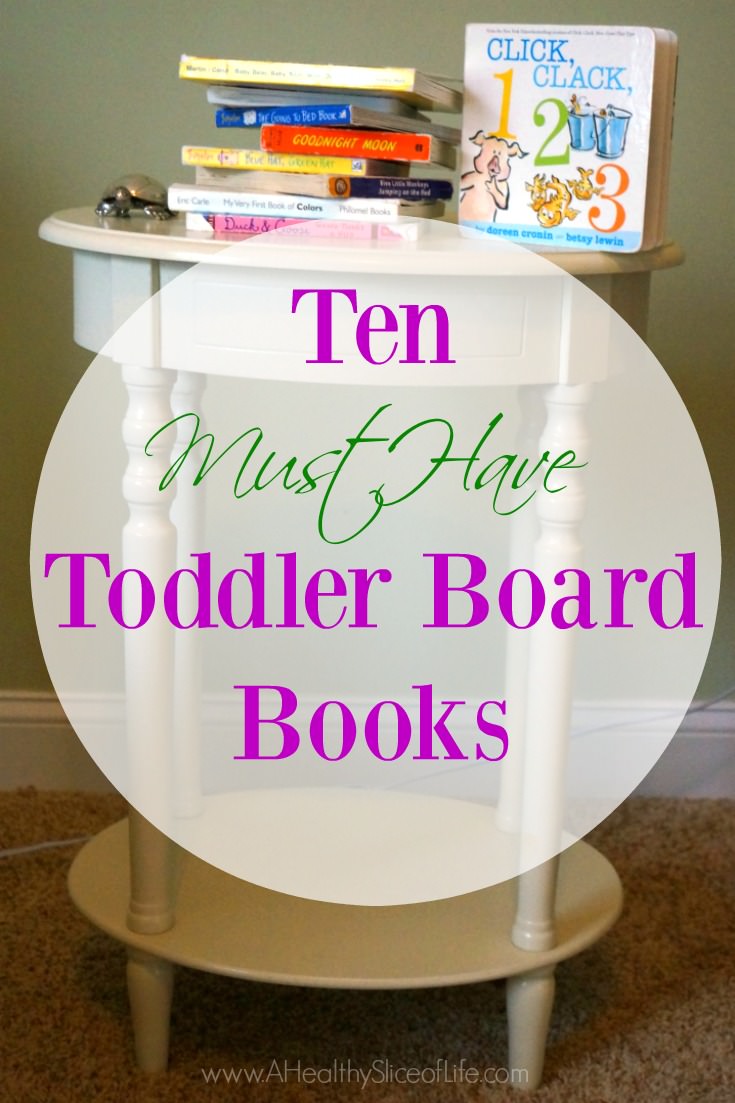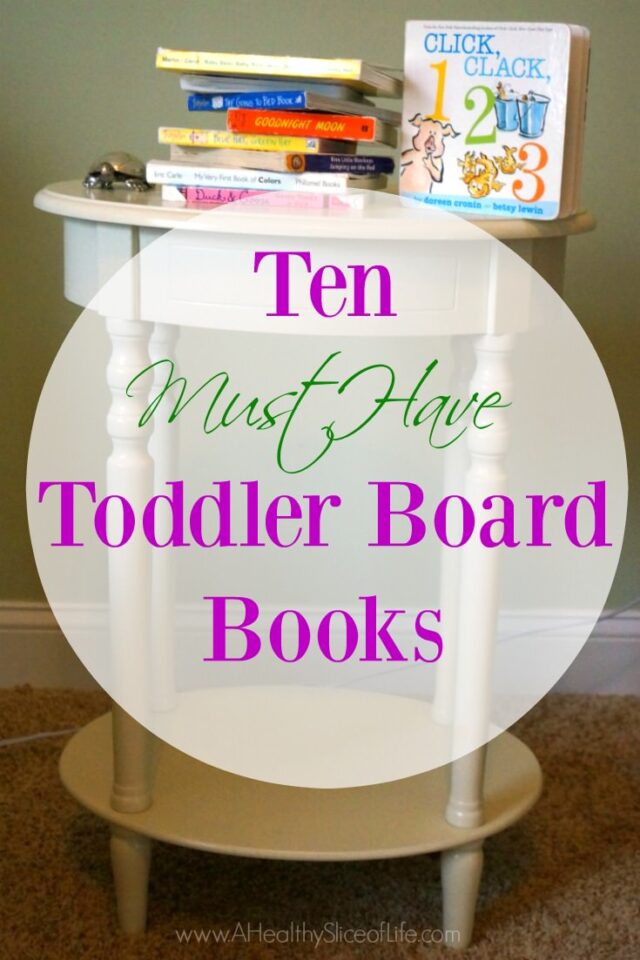 We have accumulated a lot of children's books, which I am so grateful for. We also borrow regularly from the library and are sure to check out friends' bookshelves when we visit, too. Through this very official research, I've learned that not all kid books are created equal. Here are some keys I've found are crucial for a great toddler book:
Make sure it's a board book. There is a reason they make these. Paper pages are easily ripped to shreds by an enthusiastic toddler swatting at the pages, so it's best to hedge your bets and stick with the board books.
Limit text on the page. Most toddlers aren't really into elaborate stories. A couple sentences gives them plenty of time to look at the pictures before the insist of turning to the next page.
You can't go wrong with animals. We can't get through a book with animals without making the sounds and watching Kaitlyn light up with joy as she hoots like an owl might be the cutest thing I've ever seen.
Remember that the parents are going to be reading this book approximately 4,968,422 times themselves, so pick one that's at least semi-entertaining.
Now that I've had two kids through the toddler stage, I've accumulated a few books that have withstood the test of time and still maintained interest from the girls. So if you have a baby on the way, have a friend that is expecting or are just into cute and colorful easy-reads yourself, here are our favorite toddler board books!
Baby Bear Baby Bear What Do You See by Bill Martin and Eric Carle
Why: A unique selection of animals (my girls know what a blue heron is now- ha!) plus repetition of phrases so toddlers can practice saying it along with you makes it a fun read. Currently this is Kaitlyn's favorite.
Blue Hat, Green Hat by Sandra Boynton
Why: We can start with the fact that it is only $3, but I love that is helping Kaitlyn recognize colors and she gets really excited to join in with the 'oops!' on each page. Also since the words are simply describing each picture, Hailey (4 years old) can "read" this this book to her sister.
Click Clack 123 by Doreen Cronin and Betsy Lewin
Why: This is one of my favorites. It has numbers and animals (moooooooo) incorporated into a simple, silly little story. I won't give away the ending (haha), but this one has been a favorite of both girls!
Five Little Monkeys Jumping on the Bed by Eileen Christelow
Why: Honestly, I didn't want to include this one. You know the song, so you know the story and man is it repetitive. But Kaitlyn LOVES it. Each time a monkey bumps his head she smacks her own forehead and yells OWWwww then bursts into giggles.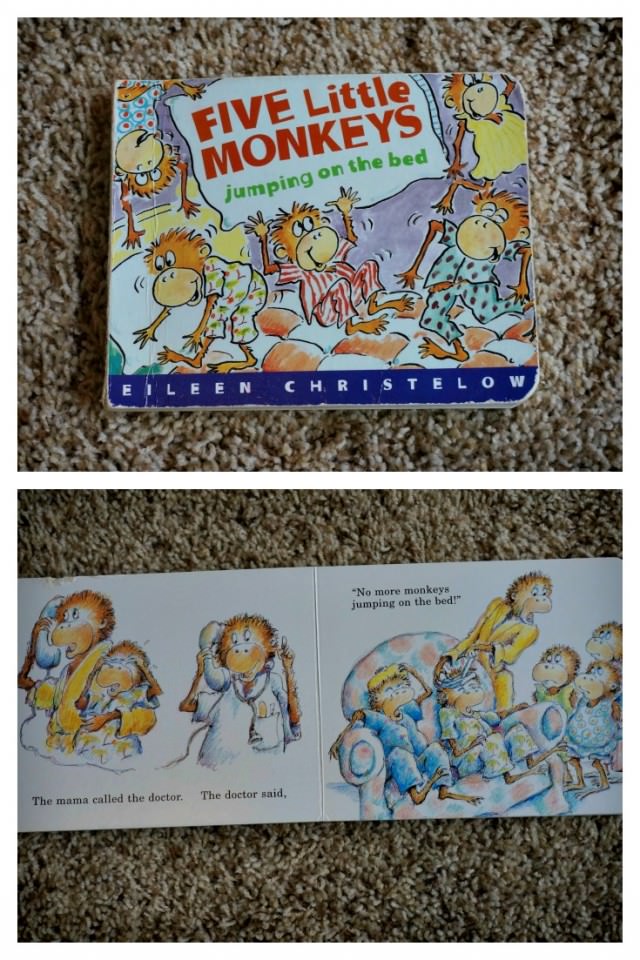 Duck & Goose: Goose Needs a Hug by Tad Hills
Why: Hands down my favorite book and I'm actually going through and looking at other Duck & Goose books because I like this one so much. It has about two sentences per page which is perfect, but manages to get a story across. It also has a lot of action words and Kaitlyn plays along with 'splashing in puddles' and playing 'hide and seek.' This is also where I came up with calling her Goose as a nickname. Love it.
First 100 Words Bright Baby by Roger Priddy
Why: It illustrates a lot of basic objects that are easily recognizable and helps little ones learn to identify them. Kaitlyn likes playing the 'can you find the flower' game. She is actually at the point now where she will point to the wrong one, grin at me, then slyly say noooooo, before she points to the right picture. Needless to say this one takes about 30 minutes to get through.
Goodnight Moon by Margaret Wise Brown
Why: It's a classic for a reason. The sleepy rhythm of the pages really makes for a perfect before bed book.
My First ABC Book by DK Publishing
Why: It's never to early to start talking ABCs right? Plus I love that it has pictures with each letter to help identify the sound of each letter
The Going to Bed Book by Sandra Boynton
Why: Cute and quirky, plus it rhymes. It's also a great one before bed (thus the title) because it slows down and ends the story with a gentle rock and rock and rock to sleep that almost does the trick for me every time (zzzz…).
Last one!
The Very Hungry Caterpillar's Finger Puppet Book by Eric Carle
Why: You know the story, but this version has the finger puppet that makes Kaitlyn squeal with delight. It keeps her interested in the story the whole time and she only nearly ripped my finger off once.
Out of of over-flowing book shelves, these are hands down our favorites that stay on regular rotation. Since most of them are under $5, the same price as a greeting card, I love baby showers or parties that suggest bringing a book instead of a card to help build the baby's collection. It's so nice to have a few to choose from when the repetitiveness kicks in… which it certainly will.
Do your kids have a go-to favorite book?
Which books did you love when you were growing up?