This weekend we tackled potty training and stayed tied to the house. I'm pleased that it went better than expected, but the real test comes when we get back to life this week. I'll report back! It was nice having the whole family home all weekend. We found ways to fill the time, like stomping on bubble wrap and giving each other manicures and pedicures.
David was a big help, especially when he kicked me out of the house Saturday morning. Those pregnancy hormones had taken over and I was about 10 shades of emotional and crazy. He simply said 'go, do something fun and don't worry about when to get back." That is music to every pregnant mom with a two year old's ears.
Where to go was an easy decision. I spent the morning at the Davidson Farmers Market watching Chef demos and getting excited about spring produce! I even got to listen to real music and not toddler sing-alongs in the car! Woah, dream big, I know.
I felt much more sane when I returned home with lunch and farmers market goodies.
OK, enough jibber jabber, on to the food! Here's what we ate for dinner last week…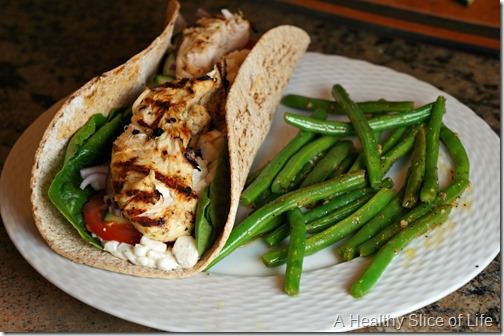 Chicken Gyro Wraps with Garlicky Lemon Greek Beans
Smoked Salmon (fail- not very good!) with Quinoa Pilaf and Steamed Broccoli
Chicken Enchiladas (modified from this recipe) and Homemade Spanish Rice
Black Bean Burgers with Sweet Potato Fries
Pesto Pizza with Chicken and Veggies with an Arugula Salad
Grilled Chicken Buffalo Sandwiches with Roasted Broccoli
At this point in pregnancy, I'm finding myself craving more carbs- bread, wraps, pizza, etc. I'm doing the best I can to keep things balanced, but indulging the cravings at the same time. Warmer weather has me pumped for new recipes, getting back into shape and, oh yeah, a sweet new baby girl to hold in my arms!
Are you ready for spring foods or still savoring soups and stews?