Responsibility. It's something I imagine all parents want for their kids, but how and when to go about instilling it isn't always clear. In our house, there are some things expected of you simply because you are part of the family. Things like clearing your plate from the table and picking up your messes fall under the category of personal responsibility, not to be confused with chores.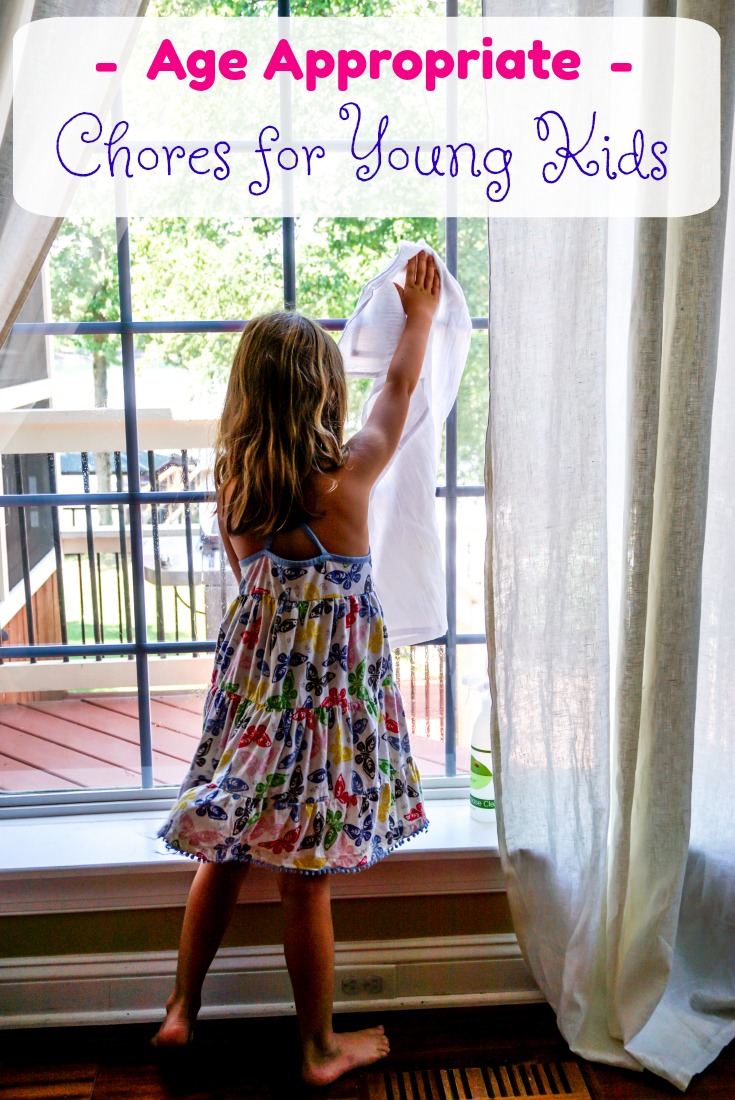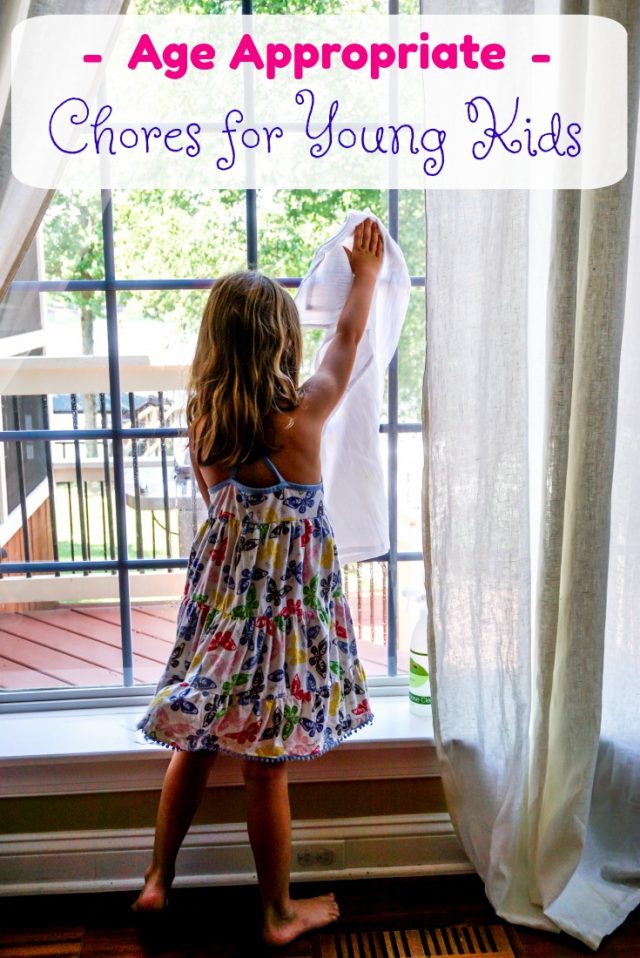 Generally speaking, the girls do fairly well with personal responsibility. I wrote about the chores we had Hailey do when she was three years old, but looking back now, I would label most of those as daily responsibilities. I found it important to start building a solid base when the girls were between two and three years old. However, now that Hailey is five, we have tried to be more diligent about adding in regular chores, defined here as ongoing tasks that help the household. I've realized kids are capable of much more, much earlier, than I naturally give them credit for. Kaitlyn, though only 3 years old, takes part in chores too, but our expectations are not quite as high.
Chores are important because they make children feel competent and helpful, as they are contributing to the family in a real way. I've noticed firsthand that the girls actually misbehave and act out more when they don't have purposeful work to do. Idle hands and all that I suppose. It makes sense because I know I feel more fulfilled and happier when I feel I am contributing something meaningful to our family. We don't pay money for chores, but we do inspect the job they did and praise them on their effort and results.
I've also found it's important not too use chores as punishment. Though I will certainly give them an extra job when they are acting out, I found it works better for us to use chores as a sense of personal purpose and pride rather than as a consequence.
When Hailey turns six, I believe we'll implement an additional system for extra jobs that go above and beyond in which she can earn money. Hailey is increasingly interested in money, but I want to firmly establish the concept of personal responsibilities and age appropriate chores before introducing the idea of paid work. We talk about how mom and dad work to earn money to pay for things we need and want, and I want her to more thoroughly grasp this concept as she gets older without confusing it with the idea of basic tasks we do as contributing family members.
For now though, personal responsibilities and chores are unpaid but highly appreciated.
Age Appropriate Chores for Young Kids
Chores for Toddlers (2-3 Years Old)
Again, this age is really about building the foundation. This means showing the child how to complete basic personal responsibilities. Putting dirty clothes in the hamper, picking up toys, and clearing the table are tasks that are simple enough for an older toddler to start pitching in on. We've found an older toddler is also capable of a few chores beyond personal responsibilities:
Using the handheld vacuum (we love ours) to suck up crumbs.
Organize shoes by the door.
Feed the family pet.
Organize books and magazines on coffee table.
Pick up sticks or gumballs in the yard and pile them up.
Chores for Preschoolers (4-5 Years Old)
While I've found a toddler enjoys chores and views them like a game, a 5 year old may begin to realize it's helping you out and it feels like work. Though I try to keep things fun and lighthearted, chores are a necessary part of life, so though most days chores are done without complaints (and dare I even say sometimes done with pride?), it isn't unusual for us to experience some pouting or protest. If you've experienced this to, push through! Like with anything in parenting, consistency is going to make all the difference.
Spraying and wiping down windows.
Wiping down stainless steel appliances in the kitchen.
Match socks in clean laundry pile.
Empty small trashcans.
Organizing desks, coffee tables, other piles of stuff.
Putting clean laundry in appropriate drawers.
Clean the baseboards.
Sweep the floors. (We have a kid broom set to make things easier)
Help carry in lighter groceries.
Bring in the mail.
Chores for Early Elementary (6-7 Years Old)
Though we aren't at this age range ourselves yet, I hear 6 years old is the turning point in which kids are able to contribute in real, meaningful ways. I can see this on the horizon for us, which keeps me focused on continuing to build the expectation of chores at the younger ages.
Wipe out bathroom sinks, vanities, and mirrors.
Empty the dishwasher.
Retrieve mail or trashcan from the street.
Vacuum and dust.
Weed the flower beds.
Clean out the car.
Learn to use the washer and dryer.
Help fold laundry.
Water the garden.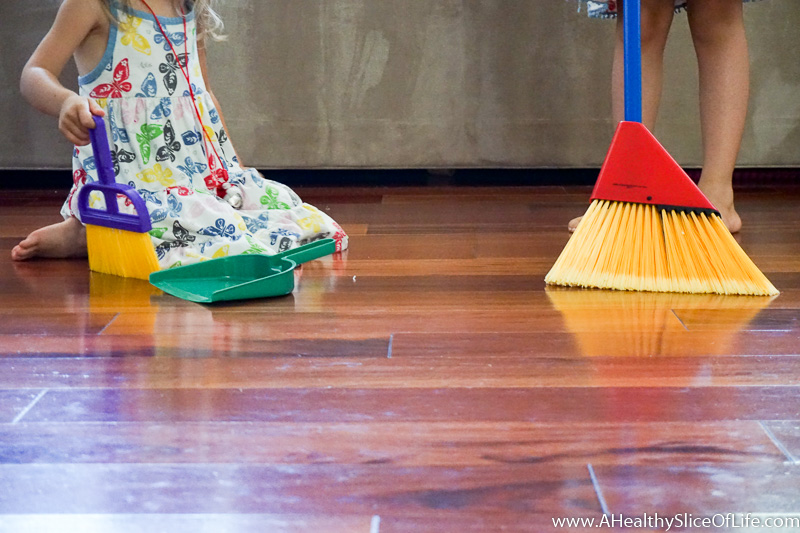 *In all cases, I feel it's important to walk through each chore thoroughly with a child, sometimes more than once, before just having them do it. I want to make sure the girls clearly understand how it is done and what kind of result is acceptable.
Let me be the first to point out that instilling the age appropriate chores responsibility, in the beginning, is more work for you, the parent. It takes some time to establish expectations and may also take a few times showing them how to do it. But much like any part of parenting, consistency pays dividends. Once children understand that helping around the house is part of their household responsibility, the whining will decrease and the result will be kids that are actually helping keep the house pulled together (hallelujah!).
David has implemented an additional step to chores that I found really interesting. After the girls finish their chores, he has them each show the other what she did, then to come and tell us about what the other person did before we inspect. He said it was something he did growing up in Boy Scouts, and though I didn't really get it, I do now. I see the girls each get a look of pride in their eyes, getting to show off their work, and I got all the warm and fuzzy feels as I saw them tell each other "you did a good job."
Whew, that's a lot of chore talk, but it's something we've been talking about a lot around our house lately.
I'd love to hear from you moms out there!
What chores am I missing?
What tips do you have for implementing age appropriate chores and responsibility in your household?