…brings a week of content. That's what they say. And for the most part I had a very well spent Sunday. Though I must say, I see why it's easier sometime to just to shop online. But let's back up for a minute.
Saturday we had friends over for card playing and football watching, so all of us were up past our bedtimes. I knew the girls would sleep in Sunday, and apparently David, too, so I sneaked out of our room at 6:45 to enjoy a morning of quiet. We've been experimenting with letting Finley back on the couch, only on her blanket and only when invited. She's doing so-so with it but it sure is fun to have her curl up next to me while I review the week, write to do lists, and structure the week ahead.
David was up by 8:00 but we had to open the doors and wake the kids up at 9:00. It's still funny to me how late they can sleep after having to use the "you aren't allowed out of your room until 7:00 AM" rule for years (mostly with Kaitlyn).
I made avocado toast and leftover toasted pumpkin bread with oranges for breakfast, and cooked the chicken for dinner, while talking through the priorities of the day with David. We knew we wanted to workout so we finished breakfast, set the girls up in living room to watch kid church (which they really enjoy but yes, we still want to try new churches and yet never seem to make it a priority), and headed out for a walk and leg day.
Afterwards we all got dressed and made the unusual trek into Charlotte. With our family pictures next weekend I wanted to look for outfits. It's a process I honestly detest, but knew would hang over me if we didn't knock it out.
We went to Southpark mall which was absolutely slammed. David, Hailey, and I were not in our element. The crowds and chaos drain us of energy, but Kaitlyn, well, she was living her best life wanting to try on endless amounts of clothes and thriving.
I partially accomplished my mission. I found a dress I loved in Anthropologie and found the girls sweet outfits in J. Crew. I still need to lay it all out and see if they'll "go together" for the pictures. Seriously, I love the pictures, but really don't like this getting ready process. I know we are supposed to coordinate, not match, but I honestly find the whole the stressful.
Anyway, we checked the box, then decided to drive by our old house in the Chantilly neighborhood that we lived in when we first got married. The neighborhood has grown up SO much but our little house has not, except for the trees that have taken over the yard. I think it's basically at lot value now and will be torn down to build a house that fits more what the neighborhood is becoming. So crazy how things change, but fun to walk down memory lane.
We got home later than I anticipated, around 4:30, and I realized a lot of the computer-based tasks I had planned on getting to (organizing my Amazon storefront, working on gift guides, setting up the RSS feed) would not be accomplished. Instead I made soup while the kids took the dog out and made popcorn.
As promised, we all watched Hocus Pocus 2 and ate chicken noodle soup (if you've never made this homestyle recipe with lemon and dill, you must try it). The kids enjoyed the movie but say they still like the first one best. How can one compete with Thackery Binx?!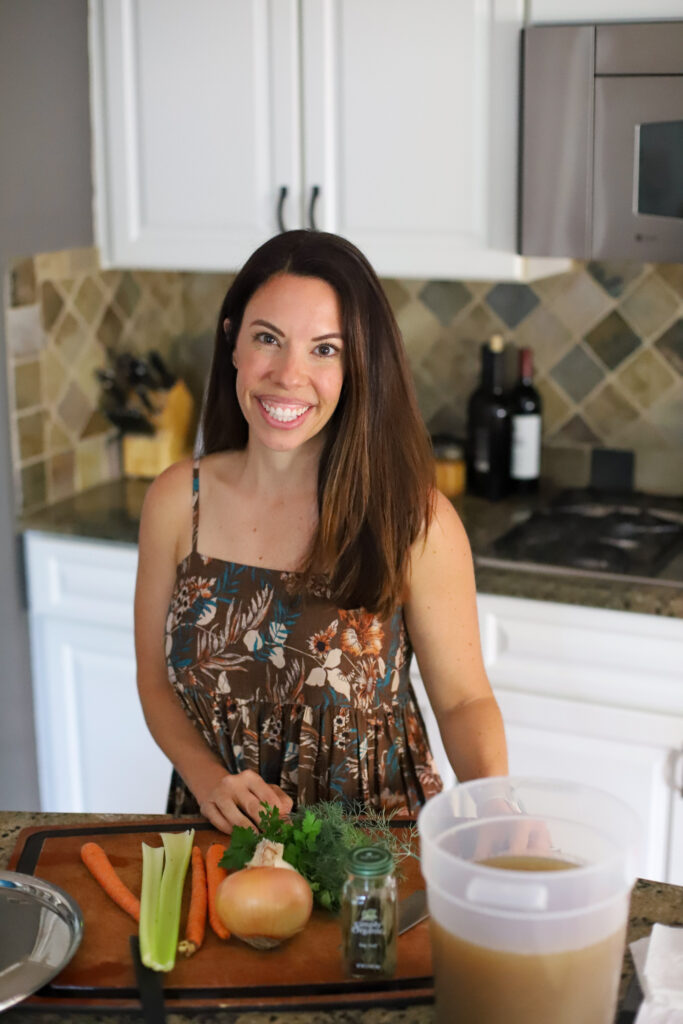 I cleaned up the kitchen, set coffee for the next day, boiled some eggs, then got roped into a game of Spades. We taught the kids this card game on Friday and they are HOOKED. It's great because it is a ton of fun, but David agreed to play to 500 which ended up taking way too long after a movie. They didn't get into bed until close to 9:30, which is about 15 minutes before my bedtime, so this morning when their alarms go off at 7:45, it should be real fun.
Did I do this day recap thing right? It's been so long since I just blogged about our regular day to day stuff that I'm not sure I remember how to do it. Is there supposed to be a point or just sharing? I hope just sharing is fine 😉
Now I'm off to hit "go" on the coffee machine. I actually woke up early this morning (4:30) thanks to a terrible dream. I'm grateful that isn't the norm for me, so I'm just going to enjoy the extra quiet time it gave me this morning and hope the day is kind to my slightly sleepy self. I'll let you know when I check in tomorrow. It's kind of fun to blog this way again.
I hope you have a great Monday!