It's been a while since I've shared what our days look like. I enjoy reading these posts on other blogs and love having them to look back on myself, .as life seems to change monthly. So here is what life looks like for us on a Tuesday in October of 2013 (in WIAW form)…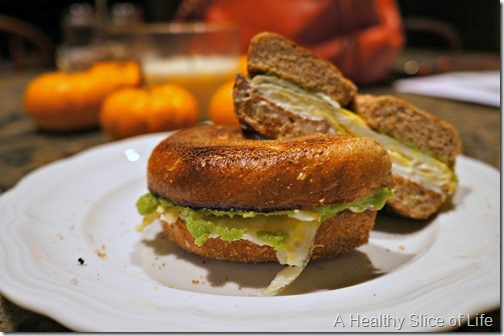 All days start with breakfast. I put together this egg, avocado and chive and onion cream cheese sandwich on a whole wheat bagel, then threw it on my panini maker that I find myself using daily and have yet to put back up. Grilled bagel sandwich? Yes, please!
I picked up these handy little avocado packs from Del Monte. They are great for spreading on a sandwich, but I don't like them eaten alone.
I munch on breakfast while I blog and do a little work. At 7:55am I throw together Hailey's breakfast, then go get her from her crib. She's slooowwww in the morning and likes to show me every blanket and doll in her crib.
She finally is up, eats, and gets dressed for school.
I drop her off then attend a class mom meeting.
After 45 minutes learning about parties, food allergies and planning donuts for dad, I'm out of there and off to the grocery.
I just pick up a couple things I needed for a new recipe, then I head home.
Once home, I tear apart the kitchen and devour some grocery store brown rice sushi because I like things like that.
I'm excited to find success in the kitchen! I psyched to share this one with you.
Let me go ahead and state I ate about 5 of these through the day.
Seeing that I am limited on time, Koda and I can only squeeze in 2 miles before I head to a quick shower.
Love when her lip gets stuck in her teeth. What a funny pup!
I pick Hailey up from school and we head home for her to eat lunch. She watches an episode of Super Why while I make it, then by 1:00, it's nap time.
That makes it computer time for me.
2 hours later Hailey is up. Again, we kiss each "baby" and throw every blanket out of the crib. It takes a solid 20 minutes before she actually gets out. It's beautiful out, so we head to the playground.
recycled picture, but all trips to the play ground are slide on repeat
I realize it's too hot for it to be October, so we might as well make the most of it and make a pit stop at TCBY for a surprise treat.
We get home to an even better surprise- David is home at a decent hour! He just got back from a run and takes over playing with Hailey while I get some things picked up inside.
(Carrie, tell Mark, because I know he's wondering, that yes, David is shirtless 99% of the time. Would you keep a Picasso under a drape?)
Hailey eats a little dinner, then it's bath and jammie time. She gives us all kisses, then it's books and bed. David comes back downstairs and I'm making dinner.
Did you know they have 100% grass-fed beef at TARGET? Whoop!
Dinner comes together and we sit on the back porch eating, discussing politics, life plans and thoroughly enjoying this random Tuesday night dinner together.
Baked potato with sour cream, arugula salad with grape tomatoes and blue cheese, roasted broccoli and grilled steak.
At 9:00pm we watch Modern Family and a Frasier,  and are in bed by 10.
What is your favorite go-to dinner?
I think mine is exactly what we had for dinner last night. It always is tasty and leaves me feeling full, but not stuffed. Mmm… steak and potatoes!