Over the years my idea of living healthy has evolved. Luckily the days of pre-packed 100 calorie packs are behind me (as are the days of eating pork rinds and pickles because they were Atkins compliant- gag). I've enjoyed the journey through calorie counting and then learning to eat intuitively. The path I've taken to learn what is healthy and feels good to me has been incredibly interesting and I love that I am more in-touch with how my body feels and reacts to things more than ever before.
Only a year or two ago I would have told you I felt the very best I ever have. And I did feel pretty great! So when someone asked me about vitamins, I was pretty certain I didn't need them. Then my doctor told me my iron was actually a little low, so after a lot of research, I found vitamins that I trusted enough to try.
I didn't expect to feel any differently, but as the weeks and months went by I noticed subtle changes- more sustained energy, stronger nails, the need for more frequent haircuts, and this bizarre symptom I had (sensitive tongue- I know, sounds bizarre) completely went away. One day I realized I was feeling better than ever, even when I thought I was feeling pretty great before. I was hooked.
With healthy living, I don't think there is a magic bullet. I think there are many facets that, when combined, make for a vibrant and healthy life; quality food, exercise, sleep, water intake, stress management and supplementation. Though the latter took me some time to embrace, I now feel it is essential to my overall wellness.
But there are so many vitamins to choose from, where do you start? That's how I felt, which is why I went research crazy to make sure what I was taking was safe and effective. Here are 7 things you want to consider when choosing the right vitamin for you.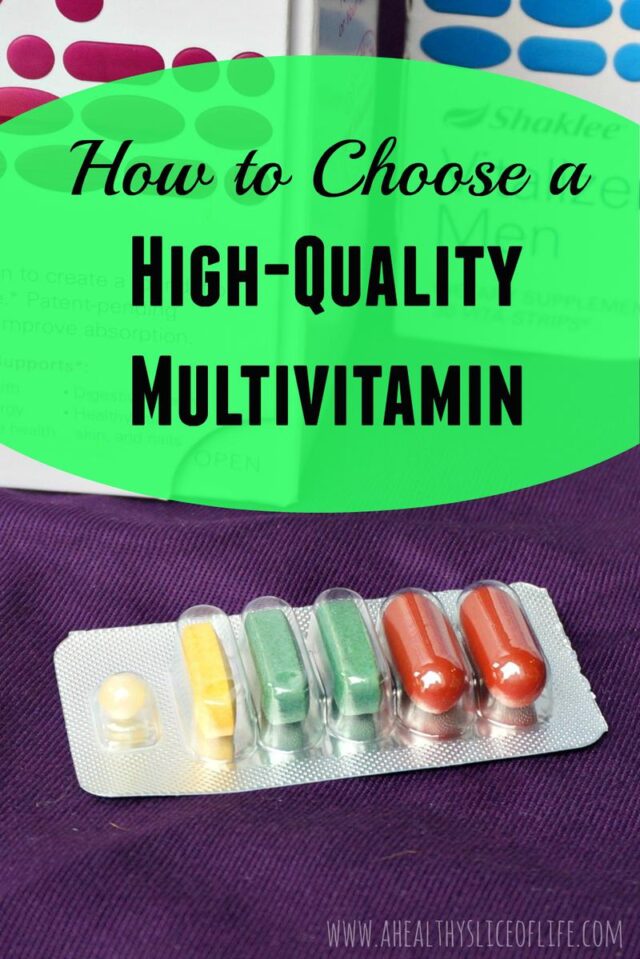 1. Look for clinical studies on the ingredients and protocols. Real, scientific, third-party evidence. And better yet, look for companies that have studies on their specific product, not just one ingredient in it (IE: the entire pill, not just the added resveratrol).
2. Look for a company that focuses on safety and quality. Has a company ever had any recalls? Have their been studies or investigations that have uncovered what is in the product differs from what is on the label?
3. Look for products that do not follow marketing fads but incorporate scientific evidence of need and benefit. I know you've seen the same thing I have- a certain 'superfood' gains quick popularity and suddenly there are a boatload of supplements that add that ingredient and market the heck out of it. Be careful of making decisions for your health based solely off of buzzwords.
4. Look for an unconditional money back guarantee. A company should stand behind its products fully, right? I think so.
5. Look for natural ingredients. Avoid artificial sweeteners, colors and preservatives. It amazes me how many vitamins, especially kids and gummy varieties, contain ingredients that we work so hard to avoid in our diets, but sneak in there with vitamins.
6. Look for a company that follows Good Manufacturing Practices (GMPs). This should be a given, but surprisingly it isn't with a lot of products on the market.
7. Look for a company that not only accepts the Certificate of Analysis, but confirms it by retesting for contaminants like lead, heavy metals and pesticides to confirm that the certificate is accurate.
That's why after a lot of research, I chose Shaklee's Vitalizer.
It provides vitamins, minerals, antioxidants, omega-3s and a probiotic (over 80 bio-optimized nutrients) all in one convenient strip. David takes, I take it. (Hailey and Kaitlyn take the kids vitamins). I trust the research I've done and feel the difference. Because I am so passionate about it, I want to give one of you the chance to feel it too. I'm giving away a month's supply of the Vitalizer (plus a few extra goodies!) to one of you!
If you want to win a month's supply of the Vitalizer, leave a comment telling me a product you love that has made a difference in your overall health!
Contest ends on Sunday, July 12 and I will announce the winner on Monday.