Things I don't understand:
How people say that I won't even have time to take a shower once Baby D is here
Why a container of mixed nuts must specify that it 'may contain nuts'
Extreme Couponing
I'm sure you've seen, or at least heard of, TLC's show, Extreme Couponing, in which individuals proudly show audiences how they manage to get cartloads of 'food' at the grocery store while paying only a small percentage of the total bill- thanks to coupons.
I've seen this show only a couple times, but each time, it gets under my skin.  I expected to watch and be inspired and thoroughly impressed with these people's dedication to saving money and smart shopping, but instead I found myself disgusted.
It's hoarding.
It showcases America's obsession with more MORE MORE!
There is no focus on quality of food or even on what products the person is 'saving' on- all that matter is the deal.
Example: these twins that have a stash of over a year's worth of diapers.  Sounds clever, except that neither one has children or is even anywhere close to having a child.
For these extremists, it's all about the challenge and the high.
If they would admit that it's just a challenge, I'd respect their hobby, but most of them beam in pride at their stashes of crappy 'food' claiming that they are thrilled to be able to feed their families for pennies.  But honestly, let's look at what you're proud of feeding your families:
Cheetos? Boxed mac 'n cheese? Boxed cookies and snack cakes? Sugary cereals? Soda?
I'm not impressed.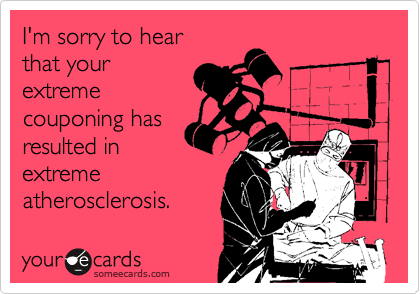 What I am impressed with are people that budget, plan meals, shop smart and use coupons for items they already use to feed themselves and their families quality food without paying ridiculous prices.
Before you argue that I'm lucky enough to be able to buy all that fancy food, let me assure you that I monitor our grocery budget very closely, and have found other ways to save money and eat healthy.
Are you a fan of Extreme Couponing?
What's your best money saving tip, sans coupons?