These easy to assemble, freezable, crust-less sandwiches are delicious! They are easy to make ahead of time for popping in kids' lunch boxes on busy days.
With baby girl arriving in 6 weeks, I've been thinking about food prep, not just for the adults, but for Hailey, too. I want to try and keep some variety for her while keeping things as simple as possible for me. Well, after investing 15-20 minutes in prep work, I had over a week's worth of sandwiches ready to go and was pretty pumped up over the results of these DIY, healthy, freezer-friendly uncrustables!
(you can see me making them here–> live on WCCB Rising)
I was amazed at how easily these came together, and with only 3 ingredients: 100% whole wheat bread, almond butter and jelly. Of course you can use whatever bread and butter you prefer or even substitute honey for jelly. Do note that a softer bread will seal more easily than a coarse one.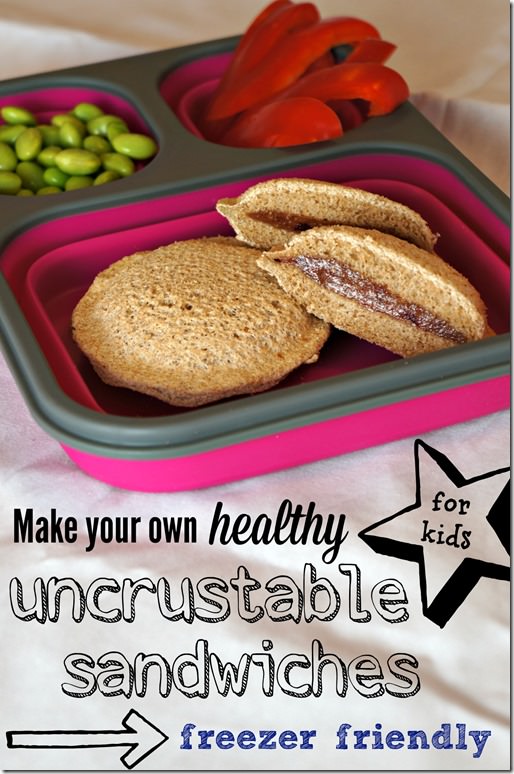 First, lay out all the bread pieces and roll over them with a rolling pin to flatten them out a bit.
Scoop your almond butter and jelly into a bowl…
and here's the secret- mix it first!
My mom did this growing up and it really makes the sandwich stay together better.
Spread 1-2 Tbsp of mixture onto the center of half the bread slices.
Layer another piece on top and use a cookie cutter (I highly recommend this set) to cut out a circle.
Pull off the remaining bread, but don't toss it. Use it to make toads in a hole for breakfast, breadcrumbs or for hiding your dog's allergy pills (just thinking outside the box here).
Simply gently squeeze the edges to create a seal.
Then place the uncrustables on a baking sheet and freeze for 4 hours.
After 4 hours you can wrap them individually or place them all in a large ziplock to be stored in the freezer. To eat, simply pull one of the freezer in the morning and stick it in a lunchbox. It will be defrosted by lunch time and ready to eat. If you need it immediately, simply microwave it for 10-15 seconds and chow down!
And really, who doesn't enjoy a good ab&j, right?
For more healthy kid recipes and topics, check out Munchkin Meals!
What is your favorite sandwich filling?